Gold Price Down Again Amid US Rate-Rise Bets, Strong China Trading, Pall-Plat Parity
Thursday, 9/28/2017 14:10
GOLD PRICES fell beneath yesterday's 1-month lows in London trade Thursday, dipping to $1278 per ounce as most commodities edged higher with world stock markets.
With gold prices now falling almost 6% from early September's 12-month Dollar high, silver today fell to $16.70 per ounce – down more than 8% from 3 weeks ago.
Platinum meantime dropped to 9-week lows beneath $920, trading below sister-metal palladium for the first time in 16 years.
Gold was then trading at $1211 per ounce.
"Gold is easing back towards the recent low at $1275.69," says technical analyst Karen Jones at German financial services group Commerzbank, calling this month's drop a 'correction'.
"We should see the market attempt to stabilise between here and the 200-day moving average at $1247.65."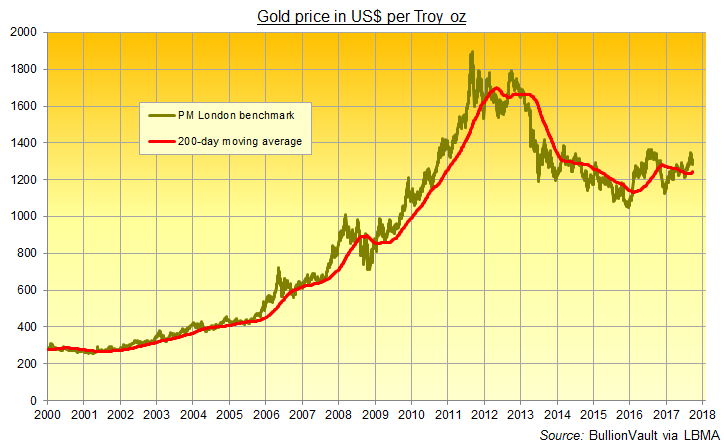 That buoyed the Shanghai premium, over and above quotes for London settlement, just above its typical $9 per ounce average.
Trading in Shanghai's main spot gold contract was meantime one-third greater today than August's average daily volume in Yuan terms, and 16% larger than 2017's daily average to date.
Looking at imports to the world's No.1 consumer nation, "Data have confirmed...weak gold demand in China," said a note earlier this week from Commerzbank's commodities team, with August's imports to the mainland from Hong Kong the lowest since January.
"At 485 tonnes, net imports [from Hong Kong] in the first eight months of the year were 70 tonnes down on the same period last year," says Commerzbank, while "direct gold imports from [global refining center] Switzerland were already weak in August."
Swiss export data show direct exports to mainland China outpacing shipments via Hong Kong however, accounting for 55% of the 366 tonnes sent to China and Hong Kong combined so far in 2017.
In other markets, the Euro on Thursday bounced from 5-week low against the Dollar – driving the gold price for German, French and other Eurozone investors back down to €1090 – while the British Pound recovered from 2-week lows.
London's FTSE100 was the only major European stock index to fall, however, as UK Prime Minister Theresa May gave what journalists called
"a defence of capitalism"
in a speech at the Bank of England, widely cast as a response to this week's socialist Labour Party conference in Brighton.
Rising in contrast to the other precious metals meantime, "Palladium has
the wind in its sails
" says Japanese conglomerate Mitsubishi analyst Jonathan Butler, pointing to "investor interest...a good amount of speculative activity...physical demand in Greater China [and] all the news we've been hearing about the electrification of vehicles [which] implies more gasoline hybrid vehicles."
Primarily used in diesel-engine catalysts, the
price of platinum
has now retreated to its lowest price since mid-July in Dollar terms and a 19-month low against the Euro.