Gold Price Defies Rise in Real Interest Rates, Hits New JPY Record, as Inflation Spooks Investors
Monday, 4/11/2022 14:38
GOLD PRICES rose to 2-week highs in US Dollar terms and bullion bars hit new record highs in Japanese Yen on Monday even as longer-term interest rates worldwide surged to fresh 3-year high and real US interest rates, after adjusting for bond-market forecasts of inflation, approached zero for the first time since March 2020's Covid Crisis, says Atsuko Whitehouse at BullionVault.
Gold bullion
priced in the Euro today hit €1800 after France's 'far right' presidential candidate Marine Le Pen went through to the 2022 election's second round of voting against Emmanuel Macron.
The metal also touched 1-month high in British Pounds above £1500 per ounce.
Ukraine's government meantime urged its citizens to flee the eastern Donbass region ahead of
a widely expected assault
by re-grouped Russian forces.
"Despite this sharp rise in interest rates, gold has not fallen, but rather risen, suggesting that investors are becoming even more wary of inflation," says Bruce Ikemizu, chief director of the
Japan Bullion Market Association
.
Spot prices for London gold bullion gained 0.7% to $1962 per ounce today, the highest Dollar rate since 25 March, after rising 1.2% last week.
Ten-year US Treasury yields – a benchmark rate for Washington's as well as many finance and commercial borrowing costs – meantime touched 2.77% this morning, the highest in 3 years.
The real interest rate implied by inflation-protected 10-year TIPS bonds also edged up, rising to minus 0.11 Monday lunch time, its least negative in more than 2 years.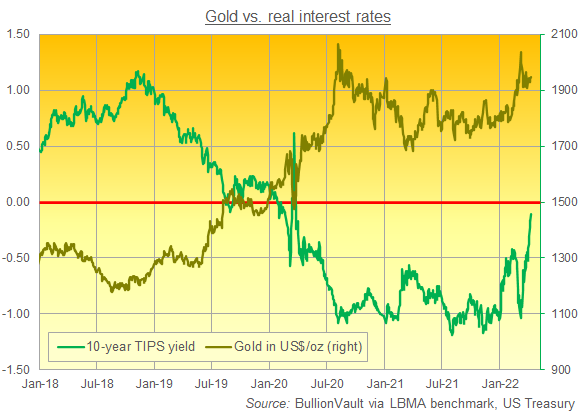 The inverse relationship between gold prices and real US interest rates has weakened sharply in April after last month nearing its strongest on a rolling 21-day correlation since August 2020's peak above $2000 per ounce.
Tending to rise when real rates fall, the gold price now shows an r-squared of just 4.8% with the yield on 10-year TIPS, well below March's 5-month peak of 76.5%.
"Inflation will remain high this year and next even as the Fed moves steadily to lower the pace of price increases," Cleveland Fed president Loretta Mester said Sunday
in an interview on CBS
.
US consumer price data, due out for March on Tuesday, are forecast to show a rise of 8.4% year on year, the fast pace since 1981 and up from 7.9% in February.
"Gold
remained well bid
amid inflation worries," said Daniel Hynes, Senior Commodity Strategist at ANZ.
"The precious metal has seen strong investor demand as a hedge against what looks like structurally high inflation."
Gold prices in Japanese Yen today climbed back to March's new all-time high at ¥7939 per gram as the currency weakened to its lowest against the Dollar since 2015.
The Euro snapped a 7-day losing streak on the FX market while France's Cac 40 rose 0.5% following the first-round presidential election result and the UK's FTSE 250 fell 0.3% by lunch time amid fresh political pressure on finance minister Sunak.
Asian stocks tumbled, led by China's CSI 300 index losing 3.1% after producer-price inflation in the world's 2nd largest economy came in higher than expected at 8.3% per year.
With major financial center Shanghai remaining in lockdown amid the Chinese regime's 'zero covid' policy, the national consumer price index climbed 1.5% year-on-year, above expectations for a 1.2% rise.
Oil prices meantime continued to decline on Monday, following a 2nd straight weekly decline with a drop of 2.4% in Brent crude while US benchmark WTI slid 2.7%.
Prices for silver
, primarily an industrial metal, rose 2.1% to $25.27 per ounce, while platinum – which finds two-thirds of its demand from industrial uses – went up 0.6% to $986 per ounce.
The price of palladium – of which Russia is the No.1 miner – climbed 4.5% to $2534 per ounce, a 2-week high, after surging 6.6% on last Friday's news that Russian platinum and palladium refiners are
now suspended
from trade body the LPPM's Good Delivery list.