Comex Gold Bulls Jump and ETFs Expand as Economic Data Sink Before the Fed, ECB
Monday, 7/24/2023 14:28
GOLD PRICES held steady on Monday against a rising US Dollar while bullion gained in Euros and UK Pounds as Europe's worse manufacturing and services-sector activity surveys of 2023 so far preceded this week's key central bank meetings of the US Fed, ECB and Bank of Japan , writes Atsuko Whitehouse at BullionVault.
Gold-backed ETF trust funds also expanded last week, snapping a run of investor outflows.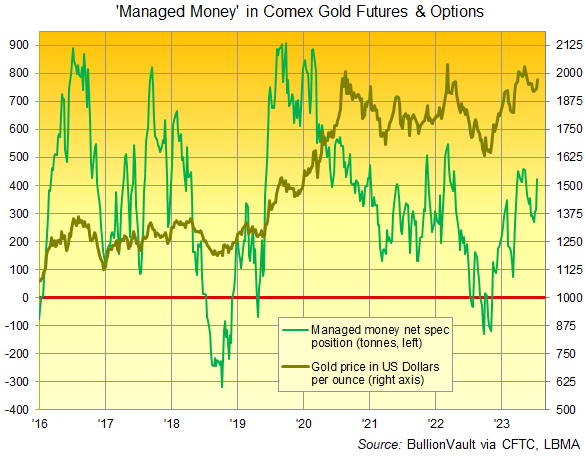 In the 7 days ending last Tuesday, hedge funds and other leveraged speculators in Comex gold futures and options grew their net bullish betting as a group for the 3rd week in a row, according to latest data from US regulators the CFTC.
Expanding by 35% – the fastest weekly jump since mid-March – the Managed Money's net speculative long position reached the biggest since early May, just after gold prices hit a new all-time high at $2078 per ounce, but remained below half of the all-time record size set in the fall of 2019.
Giant
gold ETFs
the SPDR Gold Trust (NYSEArca: GLD) and the iShares gold ETF (NYSEArca: IAU) also saw net investor inflows last week, expanding for the first time in 5 and 8 weeks respectively.
Gold priced in the US Dollar today edged up 0.2% to $1966 per ounce, while wholesale bullion in the spot market rose 0.4% to £1532 for UK investors and 0.5% to €1773 for European investors.
The European common currency and the British Pound both fell to 2-weeks lows against the Dollar on the FX market after July's preliminary readings from S&P Global's purchasing managers' index showed
manufacturing activity sinking
in factory-powerhouse Germany at the worst pace since the first-wave Covid crisis of spring 2020, with services sector growth slowing hard across the region.
Local stock markets slipped 0.2% this morning from Friday's 5-week on the EuroStoxx 600 index but Eurozone and UK government bond prices rose, pushing the cost of borrowing down after that weak economic data, while Spanish bond prices tracked their Eurozone peers after no clear winner emerged in the country's general election on Sunday.
With a quarter-point hike from both the Federal Reserve on Wednesday and the European Central Bank on Thursday looking set in stone, the focus will be on what Fed Chair Jerome Powell and ECB President Christine Lagarde say about the rate outlook.
"If the Fed lends credence to market expectations for no further rate hikes after this month, that
may help bullion bulls
reclaim the $2000 handle on gold," says Han Tan, chief market analyst at Exinity Group.
"However, if the if the Fed pours cold water on the notion that its rate hikes are coming to an end, that could prompt bullion to unwind more of its recent gains and falter back into the lower-$1900s."
Prices for silver
, which finds nearly 60% of its annual demand from industrial uses, were meanwhile capped Monday lunchtime in London at just above last Friday's close of $24.63 per ounce.
Platinum, which finds two-thirds of its demand from industrial uses led by auto-catalysts, edged higher by 0.2% to $966 per ounce.
But the price of palladium – which finds well over 4/5ths of its end-use demand from auto-catalysts to cut carbon emissions from gasoline engines – edged lower by 0.1% to $1295 per ounce.