Services Boom Hides the Slump
Monday, 6/12/2023 09:01
Read May's NFP and ISM PMIs more closely...
KILLING
an inflated economy is proving to be touchy (and sticky) business,
writes Gary Tanashian in his Notes from the Rabbit Hole.
As manufacturing continues to weaken and forward inflation signals continue to fade (per 2023 trends), the Good Ship Lollipop sails on with its vaunted (is that another word for bloated?) and lagging services sectors acting as the wind in its sails.
As usual for a latter stage economic situation in this vast 'services' economy, you have a nice headline driven by Education and Health Services, Professional and Business Services, Leisure and Hospitality (services), a big pop in Government (services, such as they are) and of course Construction, which is tied to the services economy, not the productive economy.
For good measure, if you add Other Services to Financial Activities (services) you get a healthy pop there too.
As for productive endeavor: Manufacturing? Well, it continues to recede and mining/logging are going nowhere.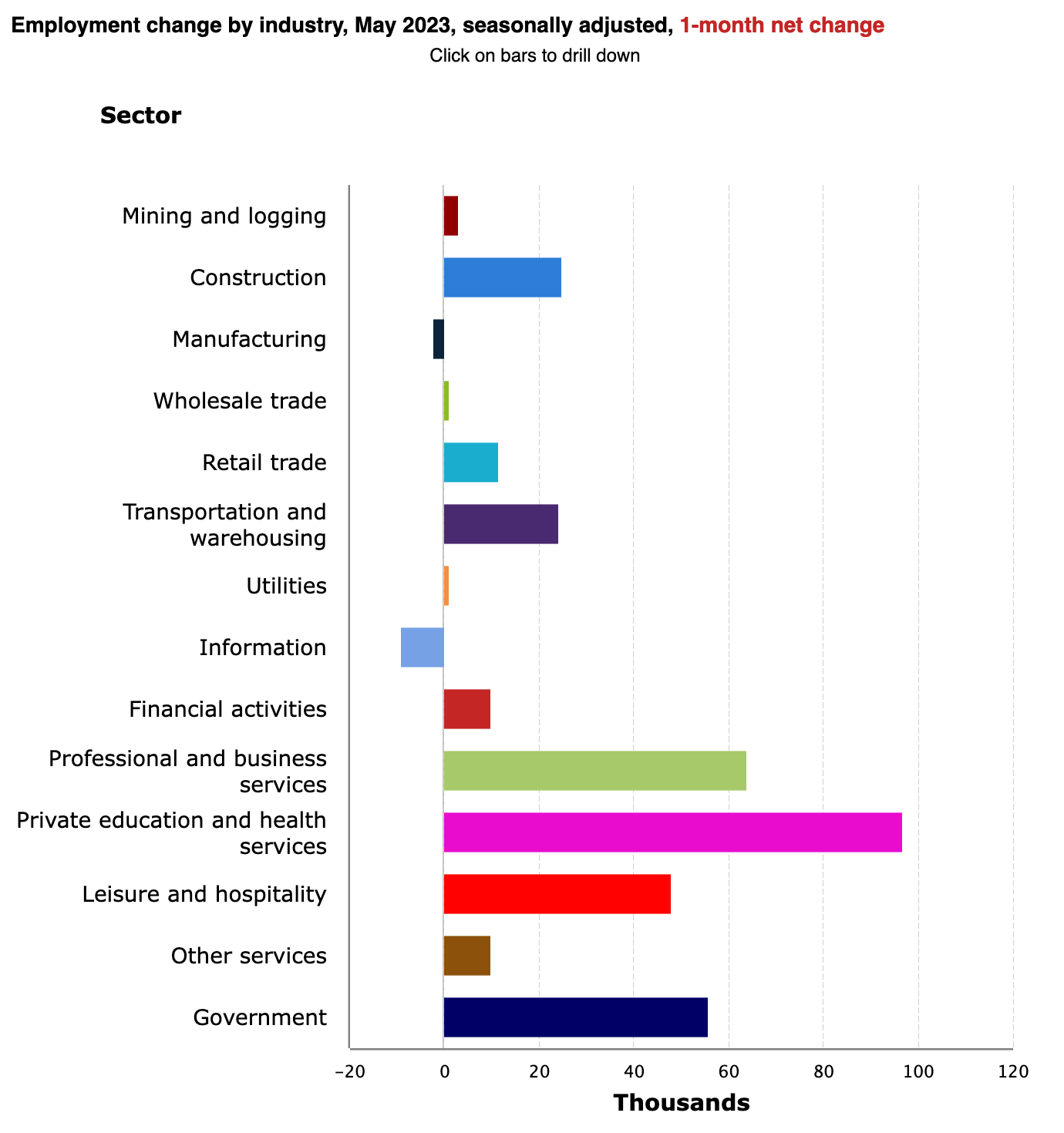 The May Payrolls report was 'services' laden and late stage stuff. Early stage stuff like manufacturing is in the dumper.
There is another consideration making the rounds, and that is that the Household survey tells a completely different story about the vaunted Payrolls dinger. The contraction in the work week was not broadcast nearly as much as the headline number
Meanwhile, US manufacturing on the ISM PMI has dropped in systematic, robotic fashion over the last 12 months.
From an index reading of 53% in June 2022 to 47% today, the sector has declined steadily but in the absence of full recognition of the oncoming economic recession, there is no washout. Just steady decline and steady leadership to where we are going. The Good Ship Lollipop will not sail on forever, Hazel.
Of the key elements, new orders are tanking (from February to May: 47 > 44.3 > 45.7 > 42.6), employment is flat (with a positive bias to this point) inventories are declining but customer inventories are building (not a good combo for future employment), prices have been volatile but have declined from 51.3 in February to 44.2 in May and finally, backlogs are very low at 37.5 from 45.1 in February. That is a dangerous trend and also a foreshadow of forward employment weakness.
All in all, US manufacturing is in recession while the Good Ship Lollipop's vast services sectors sail along as if with not a care in the world. In the coming months, there will be a care in the world.