Gold Prices Retreat as Euro Stocks Rally, Fed Prepares Rate Rise Amid Inflation and War
Monday, 3/14/2022 14:01
GOLD PRICES slipped Monday in London as European stock markets rose on apparent optimism over ceasefire talks between Russia and Ukraine while Treasury yields jumped on speculation that today's multi-decade highs for inflation will push the US Federal Reserve into an aggressive rate hike cycle starting this week, writes Atsuko Whitehouse at BullionVault.
With US inflation now running at 7.9% per year, the worst since the deep global recession of 1982, the Fed on Wednesday is expected to raise its key interest rate by 25 basis points from zero.
Monday's price drop in US Treasury bonds drove the cost of borrowing over 10 years up to 2.09% per annum and took 2-year yields up to 1.81% – also the highest since July 2019.
Gold prices
in US Dollar terms meanwhile fell 1.1% to $1966 per ounce, and wholesale bullion in the spot market went down 1.3% to £1506 for UK investors and 1.5% to €1794 for European investors.
"[Bullion] works in
an almost opposite
demand cycle to shares," reckons John Moore, senior investment manager at UK stock brokerage Brewin Dolphin.
"We demand it when things are concerning. If I were very optimistic about the world, I may sell my gold and buy some shares."
The pan-European Stoxx 600 added 0.7% in early trade Monday after dropping 11% since the beginning of 2022, while Germany's Dax fell 14% and the French Cac40 dropped 12.5%.
Gold in contrast has risen 9.5% so far in 2022 in Euro terms.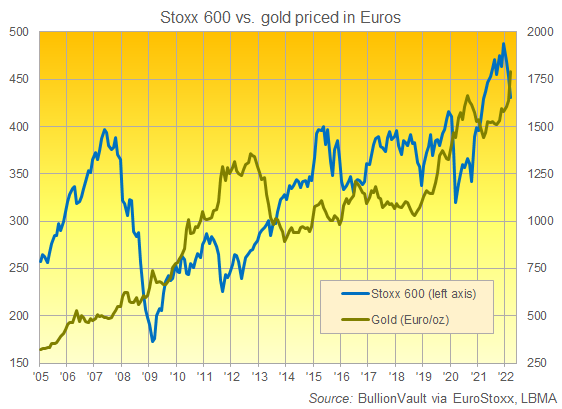 "Wars on their own don't tend to be sustained bullish drivers of gold," Moore at Brewin Dolphin goes on.
"There's an initial push higher," but inflationary pressure in the cost of living has been driving this New Year's surge.
The European Central Bank has now raised its forecast for 2022 inflation across the 19-nation currency union from 3.2% to 5.1%, while cutting its growth forecast from 4.2% down to 3.7%.
Eurozone consumer prices rose by a record 5.8% in February, the highest figure in the bloc's 2-decade history.
Global manufacturing hub Shenzhen in China was today put into lockdown for at least a week to combat a resurgence of Covid-19 infections among its 17.5 million residents, while stock markets in Hong Kong and Shanghai sank by 9% amid US regulatory scrutiny of Chinese tech firms.
Gold prices on the Shanghai Gold Exchange meantime continued to show a discount to London for the 4th session running on Monday, trading $8 per ounce below quotes in the precious metal's central storage point – the biggest gap
since June last year
– as the Yuan weakened against the US Dollar to the weakest in a month.
In contrast to the weak demand implied by China's price discount,
gold-backed ETF trust funds
in the US expanded last week, with both the SPDR Gold Trust (NYSEArca: GLD) and the iShares gold ETF (NYSEArca: IAU) seeing solid net inflows.
Inflationary concerns, combined with weeks of growing tensions ahead of the invasion of Ukraine, helped gold ETFs to
expand by more than 5%
in the year to end February, according to data available from the mining industry's World Gold Council.
"Investors are making a beeline for gold because it is considered
a safe store of value
during times of geopolitical uncertainty and rising inflation," the
Financial Times
quotes one wealth management firm's chief investment officer.