Gold 'Has Already Priced In' 2022 Fed Rate Hikes as Bond Yields Rise Again with Crude-Oil Inflation
Monday, 1/17/2022 15:13
GOLD PRICES held firm on Monday above $1820 per ounce even as longer-term interest rates rose further in the bond market while crude oil hit 3-year highs, writes Atsuko Whitehouse at BullionVault.
Spot gold prices slipped $2 from Friday's London close of $1823 per ounce, the highest weekly finish for wholesale gold bullion since mid-November and more than recovering the prior week's 0.7% drop after
the release of 'hawkish' notes
from the US Federal Reserve's latest policy meeting.
"The fact that the price is holding above the $1800 level suggests that gold is not going to go down easily on monetary tightening."
Last week brought a series of
hawkish comments from Fed officials
ahead of the "blackout" period when they will be restricted from speaking until after the next FOMC meeting on 25-26 January.
While US stock and bond markets are closed Monday for Martin Luther King Day, trading in US Treasury bond futures contracts today pointed to 10-year yields of 1.85%, five basis points above Friday's level and the highest since January 2020 – eve of the global Covid Crash in financial markets.
"Gold remains resilient despite Friday's renewed surge in bond yields," says derivatives platform Saxo Bank's commodity strategist Ole Hansen, "as the market
continues to price in
the prospect of rising US interest rates, potentially at a more aggressive pace than previously expected."
With
a drone strike
apparently run by Houthi rebels in Yemen attacking oil facilities in Abu Dhabi, crude oil prices – having driven the surge of inflation now causing US and other central bankers to start or discuss tightening monetary policy – meanwhile hit a new 3-year top of $86.71 per barrel of Brent on Monday, after it jumped 5% last week, extending last year's gain of 50%.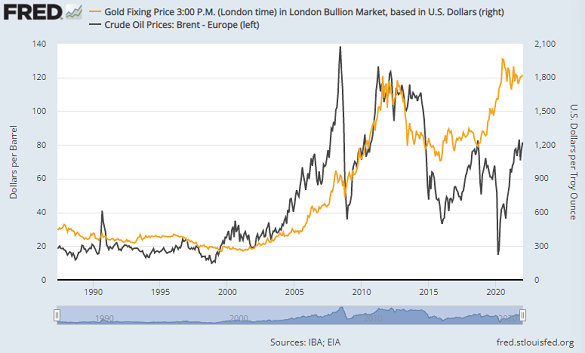 The US consumer prices rose 0.5% in December to push inflation in the cost-of-living to a near 40-year high of 7% across 2021 as a whole.
In a stark policy divergence with other major economies, China's central bank today cut its key interest rate for the first time in almost 2 years, offering 1-year loans to commercial banks by 10 basis points.
Just ahead of the policy announcement, official data on Monday showed growth in the world's second-largest economy reached 4% per year at the end of 2021, the weakest pace since the Covid lockdown slump of early 2020.
With Covid restrictions now being re-imposed just as the annual Chinese New Year holidays and shopping spree begin, "The domestic economy is
under the triple pressure
of demand contractions, supply shock and weakening expectations," said Ning Jizhe, head of the National Bureau of Statistics (NBS) launching today's data.
Retail sales in December missed expectations with only a 1.7% increase from a year earlier, the slowest pace since August 2020.
Property investment dropped 13.9% in December from a year earlier,
falling at the fastest pace
since early 2020, according to Reuters calculations.
Gold prices on the Shanghai Gold Exchange meantime continued to show a premium to London, steadying at $5 per ounce on Monday after wholesale bullion in the metal's No.1 consumer market increased the incentive for new imports into the precious metal's No.1 consumer market by $1 per ounce.
Euro gold prices today rose 0.2% to €1595 per ounce even as Eurozone bond yields rose, with Germany's 10-year Bund rate within 3 basis points of zero, near last week's -0.01% reading set the least negative return to new buyers since May 2019.
Gold prices for UK investors were also up by 0.3%, reaching £1334 per ounce as the formerly bullish Pound weakened on the FX market amid worsening political developments for pro-Brexit Prime Minister Boris Johnson.