Gold Rises Again as Russia Sanctions Send 'Freedom's Price Tag' Higher for Oil, Gas, Wheat
Wednesday, 2/23/2022 15:54
The PRICE of GOLD reclaimed the $1900 level amid the worsening Ukraine Crisis on Wednesday, showing a gain of almost 4% for 2022 to date as global stock markets rallied from their 9% drop.
The MSCI World Index has now fallen in 22 of 37 sessions so far in 2022, some 59.5% of the time.
That contrasts with 41.7% losing days for global equities between the start of the Covid pandemic and the end of 2021.
Giant gold investment product the SPDR
gold ETF
(NYSEArca: GLD) was unchanged in size overnight, holding at its largest since August after expanding by 5% since New Year's Eve.
Net selling meantime continued on BullionVault, with
private investors now liquidating
0.8% of their 47.5-tonne holdings since New Year as gold prices set multi-month and multi-year highs.
Trading volumes in
Comex gold futures
and options in contrast jumped 65% yesterday from Monday's level as the US, EU and UK imposed fresh sanctions on some Russian oligarchs and businesses, reaching the highest level in 4 weeks.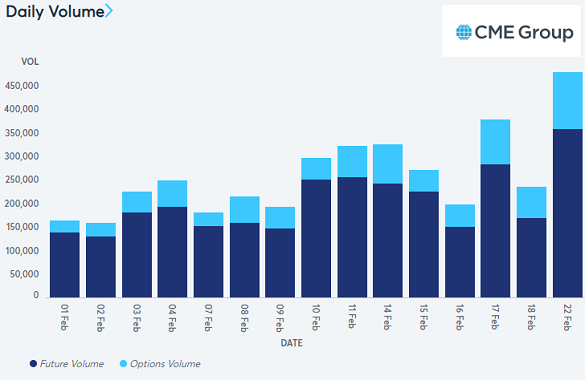 "Peace and freedom in Europe
don't have a price tag
," said Germany's foreign minister Annalena Baerbock today at a joint press conference with French counterpart Jean-Yves Le Drian, commenting on Berlin's decision to suspend work on the controversial Nordstream gas pipeline from Russia.
"We accept the economic consequences for a democratic, sovereign and free Ukraine...now that Putin has smashed the Minsk agreement."
European natural gas futures for April rose over 10% for the 2nd day running on Wednesday, reaching the highest cost so far this month, but crude oil edged back by $5 per barrel of European benchmark Brent from an overnight high near $100.
After the central bank in Hungary raised its key interest rate Tuesday to 3.4% in the face of 7.9% annual inflation, the Reserve Bank of New Zealand today raised its key rate for the 3rd time since October, reaching 1.0% as the cost of living rises by 5.9% per year.
Moscow's stock market was shut Wednesday for the national Defender of the Fatherland commemorations after turning yesterday's initial 10% loss into a 1.5% gain by the close.
With Russia's bond prices falling, the yield offered by Moscow's $7 billion in 40-year Dollar-debt issued in 2017 reached a lifetime high above 6% per annum.
"The EU is set to prohibit the purchase or sale of 'transferable securities and money-market instruments issued' by Russia," says Bloomberg, citing draft documents.
With gold prices edging up within $3 of yesterday's new 9-month high near $1914 per ounce, silver today reached 4-week highs at $24.45.
Platinum rose within $10 of last week's 3-month highs at $1098, and the
price of palladium
– of which Russia is the No.1 miner – jumped to the highest since September as Western nations imposed and discussed still further sanctions against Moscow over its
recognition of and troop movements into
Ukraine's north-eastern Donbass and Luhansk regions.