Gold Price Gains in Falling Dollars as Crude Oil Jumps
Monday, 5/30/2022 15:10
GOLD PRICES in terms of the Dollar rose Monday morning as the US currency sank to 1-month low on the FX market with oil prices surging to 2-month highs amid fresh supply concerns, writes Atsuko Whitehouse at BullionVault.
Spot gold prices rose as high as $1863 per ounce before paring most of that gain back to $1855 after the yellow metal made a 2nd consecutive weekly gain last week for US investors.
Gold priced in Euros in contrast slipped 0.3% to €1723 per ounce as the 19-nation currency rose amid hints that the European Central Bank will move towards "lift off" for its currently sub-zero
interest rate
in July.
The UK gold price in Pounds per ounce meanwhile held almost unchanged from Frida's close at around £1467.
"[The] softer Dollar and lower bond yields" helped edge gold prices higher," says spread-betting platform Saxo Bank's commodity strategy team, "as well as rising fuel prices supporting a fresh attempt to challenge key support at $1868/70."
Oil prices rose on Monday, hitting their highest in more than 2 months, as both the Brent crude futures contract and West Texas Intermediate (WTI) crude futures jumped as high as 0.5%.
Oil prices are up 5% on the month so far in May.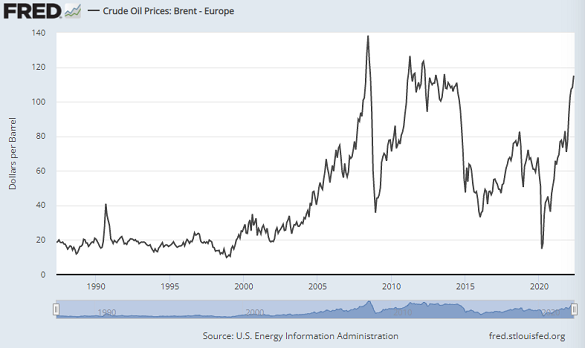 The US Dollar Index today edged lower against other major currencies after recording a 2nd straight weekly decline with a new monthly low last Friday.
While US stock and bond markets were closed on Monday for the Memorial Day holiday, US Treasury yields had been subdued after the benchmark 10-year note hit a fresh six-week low.
Meantime, EU governments
failed to agree
on an embargo on Russian oil on Sunday but said they will continue talks on a deal to ban seaborne deliveries while allowing deliveries by pipeline.
Hungary says an oil embargo would be "a body blow" to its economy, which relies on Russian oil and gas supplies, while Slovakia and the Czech Republic have expressed similar fears.