Gold Price Snaps Real-Rate Correlation as Mid East War, US Debt Weigh on Bonds and Stocks
Monday, 10/23/2023 14:51
GOLD PRICES held near 3-month highs against the Dollar on Monday and traded close to last week's fresh record highs in Euros, Sterling, Yen and Chinese Yuan despite a fresh surge to new multi-year highs in the bond market as investor concerns appeared to intensify around US economic growth, the US government's ballooning debts, and also the risk of the Hamas-Israel war spreading across the Middle East, writes Atsuko Whitehouse at BullionVault.
The yield on conventional 10-year US Treasury bonds today rose to another 16-year high – offering new buyers more than 5% per annum for the first time since the eve of the global financial crisis – as
Washington's outstanding debts
rose further above $33 trillion.
European stock markets fell, pushing down the Euro Stoxx 600 index by 0.7% to its lowest intraday level since March, as the yield on 10-year German Bunds jumped to 2.96% and 30-year UK Gilt yields rose to 5.21%, the highest since the summer of 1998.
With Dollar gold prices steadying near $1980 per Troy ounce after
rising almost 10% since Hamas' 7 October atrocities
across southern Israel, the precious metal's strength in the face of rising interest rates "highlights a market where traders and investors are growing increasingly concerned, not only about the geopolitical landscape, but also about US fiscal policy," says derivatives platform Saxo Bank's commodity strategist Ole Hansen.
Real US interest rates as implied by inflation-protected 10-year TIPS bonds meanwhile rose to 15-year highs above 2.5% ahead of the US stock market opening on Monday, suggesting that debt traders expect the underlying cost of living to stay higher than the Federal Reserve's target of 2%.
A perfectly negative relationship would give an 'r' coefficient of minus 1.00, but that connection has weakened over the last month to give a reading of just -0.04 on a rolling 22-day basis – the weakest such figure since early November 2022, when bullion prices traded just above $1700 as the precious metal rallied from 30-month lows after US mid-term elections split the Senate and Congress between Republican and Democrat control.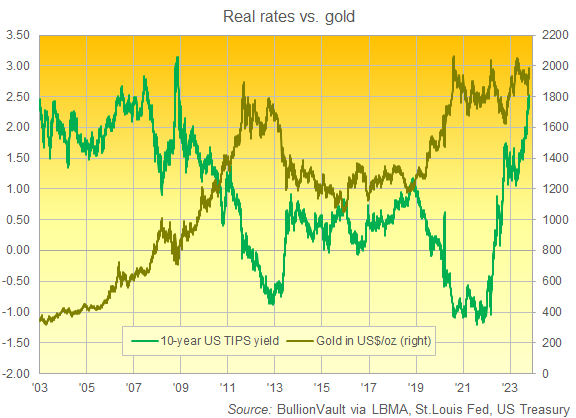 "What really matters to the markets is how long we sustain 5% [nominal] interest rates or higher and what sort of damage that does to the economy as a whole," says Gennadiy Goldberg, head of US rates strategy at brokerage TD Securities.
"If any group or any country is looking to widen this conflict...our advice is: Don't."
US President Joe Biden is today continuing talking with leaders from Canada, France, Germany, Italy and the UK to try preventing the conflict from spreading.
But Washington is currently hampered in its ability to provide additional funds either for Israel or for Ukraine in its war to expel Russia's invasion after Kevin McCarthy – the former House speaker who struck a deal with the Democrat White House to
avert a government shutdown
until mid-November – was ousted by his own Republican colleagues.
That's an "embarrassing" position for the world's No.1 economy and military power, some Republicans say, as
the race to replace McCarthy
heats up.
The
price of silver
, which finds nearly 60% of its annual demand from industrial uses, edged 0.6% lower to $23.24 per ounce after hitting 3-week highs last session.