Gold Price Drops $20 as T-Bill Yields Spike on Debt-Ceiling Stand-Off, GDP Growth and 'No Stop' Fed
Thursday, 5/25/2023 16:10
The GOLD PRICE sank Thursday against a surging US Dollar, dipping below $1940 per ounce for the first time since late-March and down by 6.7% from early May's record-high print after US economic growth was revised higher and the US debt-ceiling crisis showed no signs of being resolved, pushing short-term interest rates sharply higher in the Treasury market.
"The stumbling block is spending," said Republican House Speaker Kevin McCarthy as the threat of the USA exhausting its legal capacity borrow and thus service its existing $34 trillion in debt saw the price of short-term Treasury bills sink, driving 4-week yields up through 6.0% per annum.
"Biden must resist Republican debt ceiling demands," counters Democrat Senator and former presidential nomination contender Bernie Sanders,
writing at Fox News
.
"The debate we are having on the debt ceiling is about our national priorities. It is about what we value as a nation and whose side we are on."
The Bureau of Economic Analysis meantime
revised up its first quarter GDP estimate
for the world's largest economy from 1.1% growth to 1.3% annualized, with Q1 inflation on the core PCE measure revised up by 0.1 points to 5.0% per annum.
The Dollar gold price
lost $20 per ounce inside 20 minutes before halving that drop but remaining below what one analyst called "the very key $1950 support level".
Betting meantime jumped that the Federal Reserve will raise its key interest rate yet again in June,
pricing the likelihood of a rise
to 5.50% – the highest Fed Funds rate since the Tech Stock Crash of 2001 – at stronger than 2-in-5.
Year-end Fed Funds forecasts also leapt, with the consensus position according to derivatives exchange the CME's FedWatch tool reaching 4.93%, the highest such prediction since before
Silicon Valley Bank failed
in mid-March.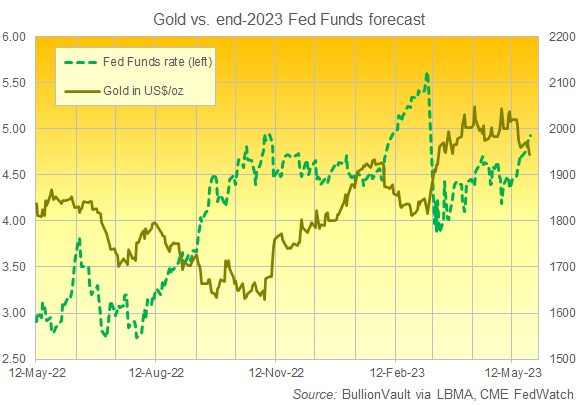 Like Dollar gold prices, silver dived towards 9-week lows, falling further below $23 per ounce after touching 13-month highs above $26 only at the start of May.
Longer-term US borrowing costs meantime jumped to pre-SVB levels, while the Dollar also rose to its highest against the
rest of the world's major currencies
since mid-March at what was a 2-decade high when reached in June last year.
"The doves appear to be gaining some traction," says bullion-market analyst Rhona O'Connell at brokerage StoneX, reviewing yesterday's release of minutes from the Fed's start-May 'no change' decision.
"[But] the hawks are still in the majority, with persistent concerns over inflation and wage gains."
Fed Governor and voting member Christopher Waller yesterday said that he sees either a rate 'hike' or a 'skip' in June,
but no 'stop'
.
With global equity prices continuing to fall amid the bond yield rise and US debt-ceiling stand off, "The market is finally starting to crack ahead of the deadline, so 'sell everything' [seems to be the response]," says strategist Nicky Shiels at Swiss bullion refining and finance group MKS Pamp.
"Gold is having a tough time divorcing itself from the US Dollar [and] yield [moves]...There seems to be no sidelined discretionary bullish takers willing to participate at current levels.
"Quiet trading and a lack of headlines is a recipe for a bleed lower."