Gold Price Heads for Strongest Month in 31 as Bond Yields Sink Fastest Since 2008
Wednesday, 3/29/2023 15:02
The GOLD PRICE held in a tight $10 range on Wednesday, showing a 6.1% gain for March to date as global stock markets extended their rebound and longer-term borrowing costs rose from the last fortnight's banking-scare slump.
Two-year US Treasury yields jumped over 0.1 percentage points to 4.13%, sharply above last Friday's 6-month trough of 3.76% but still on track for the steepest monthly drop since January 2008 – eve of the Bear Stearns' failure which first took gold prices up through $1000 per ounce.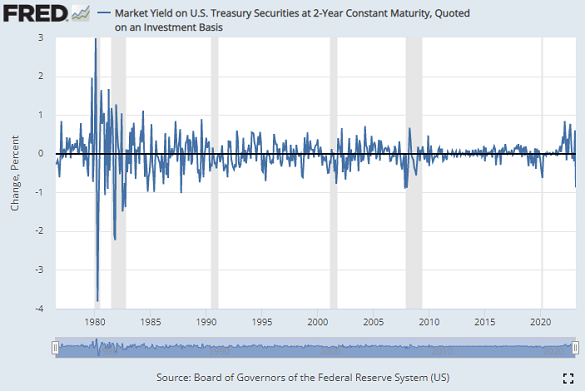 Across the entire US Treasury curve on Tuesday, and following last week's Federal Reserve rate rise, only 4- and 6-month bills showed a higher rate than the
cost of borrowing Fed Funds
, offering 4.86% and 4.90% respectively against the overnight reserves' rate of 4.83%.
New data yesterday said that US consumer confidence has improved slightly in March, but the
Conference Board's finding
contradicts the University of
Michigan survey
, which shows the first monthly drop in sentiment since November.
Because a weaker economy is expected to mean lower interest rates, in turn meaning a boost for equity prices, "It's hard for the market to bounce when everybody's looking for bad news even if the bad news isn't there."
Gold priced in Pounds today edged back to £1590, down 3.3% from last week's new all-time high.
The Euro gold price also edged back, dropping to €1810 per ounce to trade 4.0% off this month's high and 4.8% below last March's record, hit on the financial markets' shock at Russia's invasion of Ukraine.
"Hard landing & financial instability risks [are now] handcuffing the Fed" from raising interest rates to combat inflation, says strategist Nicky Shiels –
winner of the LBMA's 2022 gold forecast
survey with her consensus call of $1800 per ounce – at Swiss bullion refining and finance group MKS Pamp.
With gold so far topping Shiels' full-year annual average forecast of $1880 by $8 per ounce, she now sees the precious metal averaging $1930 across 2023, saying that her "conviction lies in higher floors vs runaway upside repricing."
"The banking system tensions [are] easing," says Rhona O'Connell at brokerage StoneX, "but we're not quite out of the woods. Liquidity is better than it was in and post GFC, but still needs husbandry."
US regulators clashed with lawmakers at a Senate committee Tuesday, pushing back on accusations of being "asleep at the wheel" on Silicon Valley and Signature Bank but admitting that their rules and oversight need to adapt to new technology, management and customer-deposit behaviors.