Gold Price Slips as China's Covid Lockdowns Offset Rising Inflation
Monday, 3/28/2022 11:39
GOLD fell with energy prices and the wider commodities markets Monday as longer-term interest rates rose again, ceasefire talks resumed between Russia and Ukraine, and China's "zero Covid" policy saw more industrial output and financial activity in the world's 2nd largest economy put into lockdown, writes Atsuko Whitehouse at BullionVault.
Gold priced in the US Dollar dropped over $20 from Friday afternoon's London benchmarking to trade at $1931 per ounce.
Ten-year US Treasury yields – a benchmark rate for government as well as many finance and commercial borrowing costs – meantime rose to 2.5%, the highest level since May 2019.
The US Dollar also rose, jumping almost 1% against the Japanese Yen to its highest FX rate since December 2015, after the
Bank of Japan intervened
in the bond market to buy Tokyo's government debt and cap surging yields – now at 6-year highs of 0.25% per annum.
The BOJ's stated yield-curve control policy aims to keep that rate on 10-year JGBs at or "around zero".
"The rise in bond yields and the Dollar have
likely capped gold
from advancing at a stronger pace," MarketWatch quotes one economist.
"But the inflation story is likely to outweigh those factors."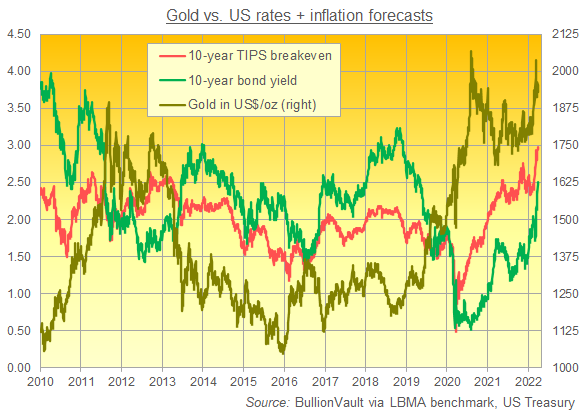 The rate of US inflation across the next decade implied by the Treasury-bond market held Monday at
a new series high
of 2.98% per annum.
The average such 'breakeven rate' forecast over the last 10 years was 1.96%.
In the 12 months to January 2022, the PCE index of US living costs – the US Federal Reserve's preferred measure of inflation – rose 6.1%, up from 5.8% in December.
So-called core PCE, which strips out food and energy costs, increased 5.2%, up from 4.9%.
Numbers for February, due out Thursday, are expected to see PCE inflation reach a fresh 4-decade high of 6.4%, with core PCE widely predicted by Wall Street analysts at 5.5%.
The Fed's official target rate is 2%.
"Elevated inflation prints and geopolitical uncertainty
should drive gold
modestly higher," reckon analysts at US investment bank Morgan Stanley, now predicting gold prices of $2000 per ounce sometime in the next 3 months.
The Kremlin today called US President Biden's apparent call for regime change in Moscow
"a cause for concern"
while President Zelensky of Ukraine – where the seaport of Mariupol has been "turned to dust" by Russian bombardment – suggested he may be willing to
offer future neutrality
in return for peace.