Gold ETF Outflows Continue as Stock Markets Set New Record Highs Ahead of the Fed
Monday, 11/01/2021 14:38
GOLD PRICES recovered last week's loss in London on Monday after gold ETFs continued to see investment outflows and global stock markets set new record highs even while the US Dollar and longer-term interest rates rose ahead of this week's Federal Reserve policy meeting, writes Atsuko Whitehouse at BullionVault.
Having
fallen 0.5% last week
in Dollar terms, spot gold prices traded over $10 higher from Friday's close of $1783 per ounce.
The Dollar index, which measures the greenback against six major currencies, meantime steadied near a 3-week peak.
The Federal Reserve's 2-day monetary policy meeting is set to conclude Wednesday, with analysts and pundits all expecting the US central bank to announce plans to begin tapering its new bond purchases, currently running at $120 billion per month.
"Depending on where you are looking, you are getting very different stories on the outlook for global markets," says Kerry Craig, global market strategist at US investment giant J.P.Morgan Asset Management.
"If you look at equities and the rally you are seeing, you think everything is OK. If you look at the bond market and how yields are moving, there's obviously a lot more concern around inflation and policy normalization."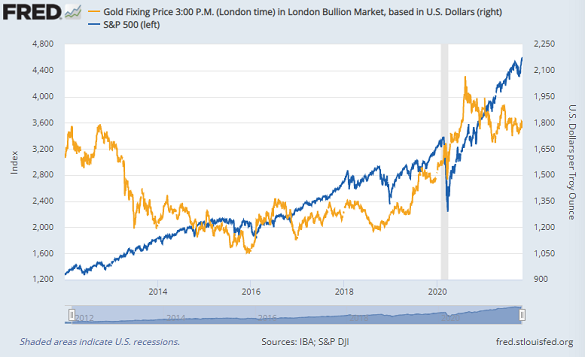 US stock indices closed last week at fresh all-time highs after strong quarterly earnings reports from many major corporations.
European stocks on Monday added to their record high hit last week, with the pan-European Stoxx 600 index trading 0.5% higher.
Over in the bond market however, 2-year US Treasury yields edged higher to 0.51%, the highest since March 2020, while 10-year US yields – a benchmark rate for government as well as many finance and commercial borrowing cost – rose 2 basis points to 1.58%.
The real interest rate implied by inflation-protected 10-year TIPS bonds meanwhile edged down to minus 1.00% after rising to one-week high of minus 0.97% per annum last Friday.
Gold-backed ETF trust funds
continued to liquidate last month as both the SPDR Gold Trust (NYSEArca: GLD) and the iShares gold ETF (NYSEArca: IAU) saw net investor outflows in October.
The GLD's last month of growth is now some 4 months ago, while the IAU saw a small monthly inflow in September.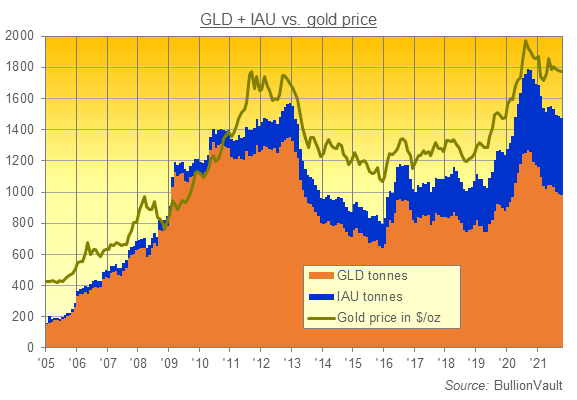 Global gold demand fell 7% year-on-year in the third quarter of 2021
according to the latest report
published by the mining industry's World Gold Council.
"This drop was almost exclusively driven by ETFs – which swung from very large inflows in Q3 2020 to modest outflows this year – overshadowing strength in other sectors of demand during the quarter."
In contrast, demand for gold jewellery, technology, and bar and coin were significantly higher than in Q3 2020, up by 33%, 9% and 18% respectively.
"In fact, the notional expenditure, purely in terms of the contained gold value in jewellery and coins-plus-bars, has soared in the first nine months of this year," says expert analyst Rhona O'Connell, Head of Market Analysis of EMEA & Asia at
bullion brokers StoneX
.
"At $126bn, this is 35% higher than the average for the first nine months of 2016-2019 (excluding 2020 because of the market dislocations)."
Strong demand for both jewellery and gold coins and bars was
also confirmed by the latest report
from the China Gold Association, with gold consumption in the No.1 bullion consumer nation continuing to rebound in the first nine months of 2021.
Gold prices on the Shanghai Gold Exchange today continued to show a premium to London, suggesting positive local demand.
However it eased to $3 per ounce on Monday as the Yuan weakened against the US Dollar on the FX market following reports on Sunday saying that manufacturing activity in China shrank for a second straight month in October.
Gold prices for European investors meantime held flat at €1544 per ounce, while UK gold prices edged higher by 0.1% at £1306 per ounce as the Pound slipped in the FX market, touching its lowest in more than two weeks versus the Dollar, ahead of Thursday's Bank of England rate setting meeting and amid an escalating post-Brexit spat with France over fishing licenses.