Gold ETFs Shrink to 3-Year Low as UK Pound Jumps, Gold Bullion Falls Ahead of US Inflation Data
Tuesday, 2/21/2023 14:20
GOLD ETF outflows plus solid economic activity reports in Europe saw bullion prices slip against a strong Dollar and sink to 7-week lows against the UK Pound on Tuesday as caution ahead of US inflation data saw longer-term borrowing costs rise worldwide.
Global stock markets slipped as bond prices fell, driving fixed-income yields up towards new 2023 highs on US, German and UK debt.
With the EuroStoxx 600 down 0.8% from last week's new 12-month high, gold priced in Euros held little changed above €1720 per ounce.
But the price of bullion dropped to $1830 in Dollar terms and hit £1512 for UK investors, its cheapest since 2nd January, as the Pound jumped following shock data that said the Sunak Government's policy of
freezing tax bands and reliefs
resulted in a budget surplus of £6.2 billion ($7.6bn) last month rather than the £16.1bn deficit analysts had expected.
Wednesday brings consumer-price inflation data from Germany and Italy, plus meeting minutes from the US Federal Reserve's 1st February rate rise.
Thursday then brings US GDP for end-2022, with January's US inflation on the Fed's preferred PCE measure due Friday.
"Further hawkish repricing of the Fed will
need to find a new catalyst
and that puts focus on core PCE," Reuters quotes Singapore bank OCBC's currency strategist Christopher Wong.
"An upside print could see [the Dollar] momentum gather traction and put pressure on gold."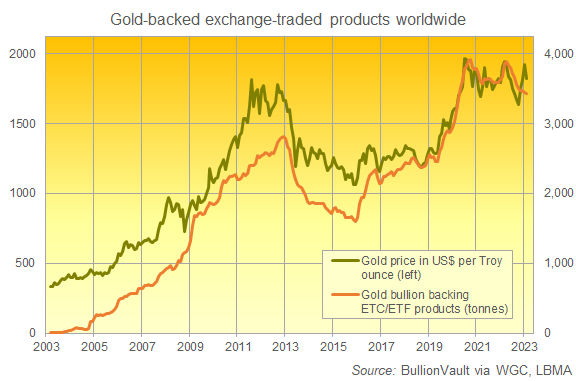 As of Friday's close, gold ETFs listed on North American stock markets had expanded by just 0.3% so far in 2023, needing an additional 5.3 tonnes of bullion backing for their shares in issue,
according to data
from the mining industry's World Gold Council.
Together, and with a strong New Year rise in Yuan prices seeing 7.7% liquidation from China's small ETP sector, that shrank the total quantity of bullion needed to back
gold ETFs
and ETCs worldwide by 7.5% from this time last year, some 12.5% smaller from October 2020's peak, and the smallest in nearly 3 years.
"Weakening growth, an easing of inflation pressures and peaking real yields should support gold prices, but after recent price rises, we
prefer to wait for better levels
," says a February investment outlook from UK asset managers Schroders.
Economic sentiment across the 19-nation Eurozone has risen again this month, the
ZEW center for research said
today, reaching its most positive since February last year.
Eurozone "recession fears fade" and "UK recession risks ebb" added today's preliminary February activity reports from data agency S&P Global, albeit with manufacturing continuing to shrink across the region while the services sector booms on
its PMI surveys
.
Over in Asia-Pacific, "Demand conditions [are more] lacklustre for Australia and Japan," today's reports also reveal, with manufacturing output in engineering and tech giant Japan falling at the sharpest monthly pace since July 2020 – height of the first-wave Covid Crisis – while new orders in commodities producer Australia fell fastest since September 2021, "underpinned by deteriorations across both manufacturing and services."
Premiums for gold bars landed in Shanghai – the official gateway to gold's No.1 consumer market, from
where bullion exports are banned
– slipped Tuesday to $28.50 per ounce over London quotes, the smallest in 4 sessions but still more than 3 times the typical incentive for new imports across the last 2 years.
With gold prices falling almost $100 per ounce this month as
longer-term US interest rates
have jumped by half-a-percentage point, the market has had no sight of speculator or commercial-trader positioning for the last 4 weeks as Comex futures and options data from US regulator the CFTC continue to be delayed
following a "cyber-related incident"
at a third-party provider.