Gold Price Erases US-Inflation Spike But Strong Ex-Dollar as Equities, Bonds, Crypto Sink
Monday, 6/13/2022 14:51
GOLD PRICES erased all of Friday's $30 spike in US Dollar terms on Monday but held near 1-month highs in Euros, Sterling and most other major currencies as global financial markets sank further following last week's surprise 4-decade high in new US inflation data, writes Atsuko Whitehouse at BullionVault.
Equities tumbled, as did crypto currencies – with Bitcoin hitting 18-month lows as its No.1 exchange and a leading lender of crypto
suspended client withdrawals
– while commodities also fell, edging crude oil lower from last week's attempt at fresh 14-year highs amid sanctions against Russia over its continuing invasion of Ukraine.
Sinking bond prices saw interest rates on 2-year US Treasury debt leap to the highest since the global financial crisis of 2008, rising above 10-year rates and so inverting the yield curve in a repeat of
March's recession warning
.
Spot gold prices in Dollar terms fell back to $1840 per ounce after touching a 1-month high at $1879 in Asian trade early Monday.
US consumer price surged to 8.6% in the year to May, the highest level since December 1981, while US consumer sentiment on the University of Michigan's index plunged to a record low for June.
"I fear that [inflation is] still
going to get worse
," Mohamed El-Erian, a chief economic advisor to German multinational financial services company Allianz, on Sunday.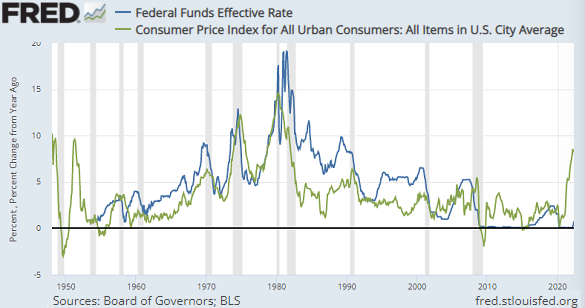 'We're now in a period of stagflation, meaning lower growth and higher inflation.
"The darkest [outlook] is that inflation persists, heads to 9%, and
people start worrying
that it's gonna go to 10% and [above]."
With the UK-based Barclays Bank becoming on Monday the first major institution to predict that the Federal Reserve will raise its key overnight interest rate by three-quarters of a percentage point at its meeting on Wednesday – the first such hike since 1994 – yields on 3-year, 5-year and 7-year Treasury bonds all jumped today to reach above the 30-year's yield, joining the 10-2 spread in signalling that
bond investors believe interest rates will need to come down
again sometime in the future, signalling fears of economic recession.
Traders in interest-rate futures now see a 1-in-5 chance of a 75-basis point hike to 1.75% rates at Wednesday's meeting, increasing from a probability of just 1-in-30 a week ago, according to the CME derivative exchange's
FedWatch tool
.
With the Fed more widely expected to raise interest rates by another half-percentage point instead, the Dollar Index – a measure of the US currency's value versus its major peers – advanced sharply Monday morning to a fresh three-week high above 104, nearing this spring's 2-decade highs.
The strength of the American currency pushed the Japanese Yen down for the 7th session in a row, hitting a 24-year low of ¥135 per Dollar.
The policy divergence between the dovish Bank of Japan and more hawkish Western central banks was underlined Monday as the BoJ said it would buy ¥500 billion ($3.7bn) of Japanese government bonds tomorrow as part of its policy to squash benchmark 10-year yields within 0.25 percentage points of its 0% target.
Gold prices for Japanese investors hit ¥8,139 per gram early Monday morning, the highest since 19 April, when prices in Japanese Yen reached all-time high at ¥8,174.
Meanwhile wholesale bullion in the spot market was firm at £1519 per ounce for UK investors amid news that the
UK economy shrank in April
, missing forecasts and confirming that the post-pandemic recovery stalled in January.
"The UK is perilously close to a recession," says one economist.
Gold priced in Euros edged lower by 0.6% to €1768 per ounce as European stocks tumbled on Monday, with the pan-European Stoxx 600 losing 2.2%.
Gold's overnight spike – which came as Asian equities fell hard, with Tokyo losing over 3% - saw prices on the Shanghai Gold Exchange trade at a discount to London, discouraging new imports of bullion from the UK's central storage hub to China, the precious metal's No.1 consumer market.
Bitcoin meantime tumbled as much as 12% to below $24,000, the lowest in 18 months, as the worsening crypto crash saw Binance – the largest exchange in the world for such digital assets – to ban all of its users from withdrawing their Bitcoin after crypto-lender Celsius paused withdrawals, swaps and transfers on its platform.
One analyst said "Crypto is having its own version of Black Monday."