Gold Price Bounces as Oil, Stocks Rally from New Covid Shock
Monday, 11/29/2021 13:45
GOLD PRICES edged higher on Monday even as longer-term interest rates rallied with European stock markets and energy prices after Friday's sell-off, while the newly discovered Omicron variant of Covid continued to spread around the world, writes Atsuko Whitehouse at BullionVault.
More countries imposed travel restriction to try to seal themselves off from the variant first detected in South Africa and Botswana, and
now confirmed in travellers
to Australia, Austria, Belgium, Britain, Canada, Czech Republic, Denmark, Germany, Israel, Italy, the Netherlands and Hong Kong.
"Community transmission suspected,"
says a headline
about 6 cases confirmed in Scotland.
Japan said on Monday that the world's 3rd largest national economy is closing its borders to foreigners entirely, joining Israel in taking the toughest measures against Omicron.
"Understanding the level of severity will take days to several weeks," the World Health Organization
warned in a statement
yesterday after two South African health experts, including the doctor who first identified the Omicron variant, said that its
symptoms have been mild so far
.
Spot gold prices edged higher by 0.1% to $1794 per ounce after trying but failing for the 4th time in a week to fall below $1780 per ounce, a key Fibonacci level according to some chart-watching technical analysis.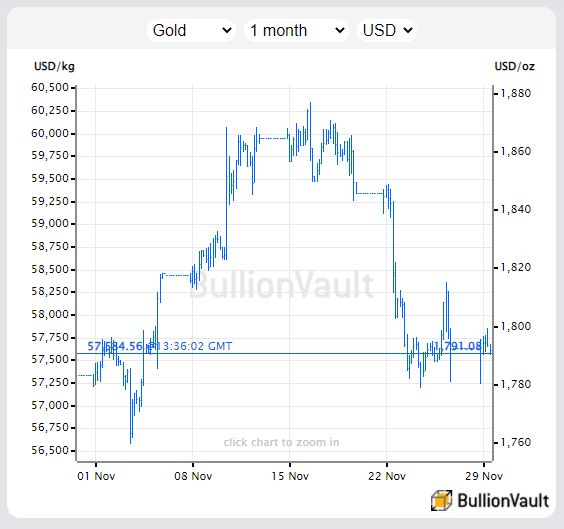 Gold priced in the Dollar – which bounced today after slipping from last week's new 17-month highs on the currency market – lost 2.9% last week despite erasing
Friday's steep drop
as the new Covid variant sent commodity and financial markets steeply lower.
European stocks started the new trading week higher after Friday's big sell-off, with the EuroStoxx 600 index climbing 0.9% after that 3.7% slide.
Asia-Pacific stocks mostly closed lower however, with MSCI's broad Asian-Pacific index falling another 0.4% after losing 1.7% in the previous session.
"Precious metals plummeted, swallowed up in a wave of cashing out," Bruce Ikemizu, chief director of Japan Bullion Market Association describing Friday's markets in his latest note.
"A slump across industrial metals spread to silver and platinum, thereby curtailing gold's potential upside," comments derivatives platform Saxo Bank's strategy team.
Prices for silver, primarily an industrial metal, rose 0.5% on Monday to $23.26 per ounce after dropping 1.7% on Friday and 6.1% for last week as a whole.
Platinum, which finds two-thirds of its demand from industrial uses led by auto-catalysts, also climbed this morning, halving Friday's 3.2% drop at $973 per ounce after sinking 7.4% for the week.
Crude oil prices also rebounded, up by almost 5% on Monday despite the US government moving to release supplies from its Strategic Petroleum Reserve, after suffering the biggest one-day decline on Friday since US benchmark
WTI briefly went negative
in April 2020 at the height of the pandemic panic.
The yield on the benchmark 10-year US Treasury bonds rose 7 basis points to 1.55% after making its steepest drop since March 2020.
"I am very open to accelerating the pace of our slowdown in purchases," Federal Reserve Bank of Atlanta President Raphael Bostic, a voting member of the Federal Open Market Committee, told Fox News in an interview Friday, playing down the risk of a new Covid-19 variant to the US economy.
"For me, early second quarter, late first quarter of 2022 are all in play as reasonable alternatives for when we might stop our purchases if the economy's momentum continues as it has over the last several months."
The probability that the Federal Open Market Committee (FOMC) will raise interest rates more than once before it meets in June 2022
has plummeted from 82% to 62%
last Friday but rose back to 70% today.