Gold Bullion Falls as US Inflation Rises, 'Rates Going Up' Says Faber, Miners Drop Twice as Fast
Thursday, 9/14/2017 14:40
GOLD BULLION held near 2-week Dollar lows in London trade Thursday as new data showed an uptick in US inflation, keeping a likely December rate rise from the Federal Reserve "on the table" according to some analysts.
The Dollar spiked on the FX market to its highest level against the Euro so far in September, while world stock markets retreated from new all-time record highs.
Consumer prices rose
1.9% year-on-year in August, today's figures said, just beating analyst forecasts.
Next week's US Fed meeting "will carry more weight" for gold prices reckons analyst Ed Meir at brokerage INTL FCStone, "and we suspect it will ultimately be supportive for the precious metal, as the Fed should again come across as quite dovish, especially in light of the recent natural disasters in both Texas and Florida."
Two of the nine policy team voted to raise, and the Bank's accompanying statement called the economic picture "if anything, slightly stronger.
"Monetary policy could need to be tightened by a somewhat greater extent...than current market expectations."
The Pound leapt on the news, reaching its strongest vs. the Euro since 20 July and driving the gold bullion price in Sterling terms down to 1-month lows at £990 per ounce, more than 4% below this month's 1-year high.
The UK hasn't hiked rates since July 2007, immediately before the 'credit crunch' in global money markets led to
the crisis at Northern Rock
that September.
"Interest rates [worldwide] are now likely to
no longer move lower
," says Swiss author and money manager Marc Faber, speaking this morning to CNBC in Hong Kong.
"There are some inflationary pressures in some sectors of the economy, and I think central banks in Europe and especially in Japan will reduce their purchases of assets somewhat."
Meantime, "Gold is an under-appreciated asset," Faber went on, noting how in the US "some stocks are up 20% and they are talked about every day. But from the December lows of 2015, the GDX gold[-mining] ETF is up more than 100%...a fantastic performance compared to the S&P."
Hitting 12-month highs with the Dollar gold price at the start of September, the VanEck Vectors Gold Miners ETF (NYSEArca:GDX) has since retreated more than 5% – twice the drop in bullion prices.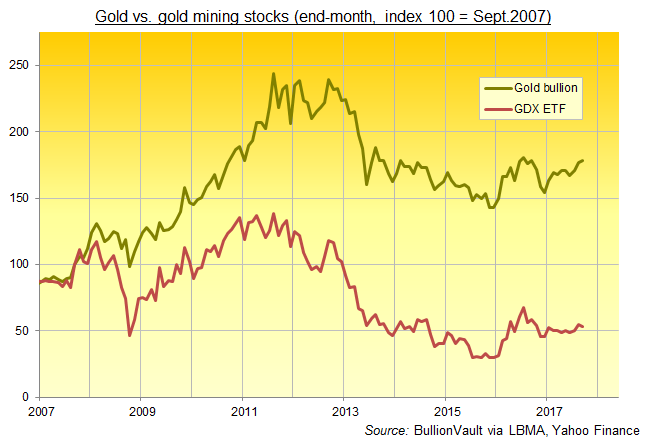 The trust fund, which holds major gold mining producers led by Barrick (NYSE:ABX) and Newmont (NYSE:NEM), initially tracked gold prices after the global credit crunch began in summer 2007, but it then sank amid the financial crisis of late 2008.
Back in physical bullion, "[We're] seeing initial failure at [gold's] 4-year downtrend [now] at $1349," says the latest weekly technical analysis from Germany's financial services group Commerzbank, joining the peaks of July 2013 with July 2016 and the start of this month.
"We would allow for this [resistance] to hold...[but] dips lower should remain well supported by the uptrend channel support line" drawn by Commerzbank from gold's start-July lows and now coming in at $1306.
"The steep upward trend from July will be an important support near term," agrees the technical analysis team at French bank Societe Generale, pointing to levels around $1295-1300.