Gold Drops $50, Russia's Bullion Hoard 'Can't Beat Default' as Asian Demand Vanishes
Wednesday, 3/09/2022 14:56
GOLD BULLION fell hard on Wednesday in London, dropping $50 per ounce from yesterday's afternoon benchmark price – the highest since August 2020's record highs – as global stock markets rallied, commodities prices retreated and longer-term interest rates rose amid a brief ceasefire between Russia and Ukraine to allow civilians to flee towns and cities worst-hit by Moscow's invasion.
President Putin
yesterday hit back
at new US sanctions banning the import of any Russian oil products by banning an as-yet un-named list of commodities being exported from oil, gas and metals-rich Russia.
With his "special operations" in Ukraine continuing to meet both
military set-backs
and
mass civilian protests
, Putin's March 8 decree imposes these "special economic measures" until 31 December 2022.
Analysts at Fitch last night cut its view of Russia's foreign-currency debt
from 'B' to 'C'
– below the 'CCC' level where the ratings agency usually stops tracking any government bonds and signalling "that a sovereign default is imminent."
Fitch had
as recently as December
confirmed Russia's sovereign debt as "investment-grade" and "stable" at 'BBB' after upgrading it to that level in August 2019.
"Russia's foreign sovereign bonds are at the equivalent of $39.5bn," notes bullion-market specialist Rhona O'Connell at
brokers StoneX
. "So in theory [Moscow has]
easily enough gold
to stave off default.
"[But] in practice, even if Russia were minded [or able] to sell, which is very doubtful," O'Connell says, the sheer quantity involved "knocks the idea out of the water", with a price of $2000 per ounce needing 614 tonnes sold to cover Moscow's debt.
That would equal 16% of global mining output and pretty much match all of the entire world's
50-year central-bank record
demand of 2019.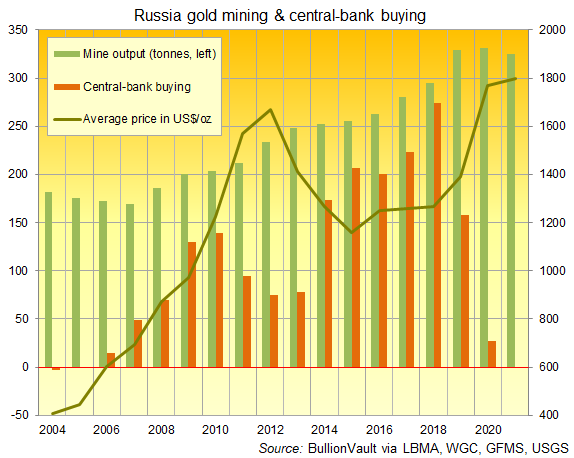 What's more, O'Connell adds, the Central Bank of Russia is now
"planning to buy" domestically-mined gold
, not sell it, in repeating the industry-support and FX reserves-growth achieved during the US-EU sanctions over Moscow's 2014 invasion and annexation of Crimea.
With gold bullion sinking to $1990 per ounce in London today – erasing most of
this week's earlier surge
– prices Shanghai had earlier fixed today at ¥415 per gram, the highest benchmark price in China, gold's No.1 consumer market, since mid-September 2020.
But that peak still saw gold landed in Shanghai sink to a discount versus London quotes, trading $6.50 below prices in the bullion market's central hub and dis-incentivizing new imports to China for the first time since November 2021.
Gold prices in India – the metal's No.2 consumer market – also
"saw a sharp fall"
says LiveMint after rising above ₹55,000 per 10 grams in early trade Wednesday "as risk sentiment improved."
Any pullback will likely be welcomed by India's jewelry industry, says the
Economic Times
, hit by people "cancelling their orders or
postponing purchases
they had planned for the marriage months of April and May" due to the gold price surging within 2% of summer 2020's record Rupee high.
India's jewelry sector – which imports, cuts and polishes 80% of the world's rough diamonds according to Crisil Ratings, the local division of S&P – also
faces problems from US-EU sanctions
hitting supplies from Russia, source of almost 1/3rd of rough output globally.
Yesterday's price spike in silver near $27 per ounce – the most expensive since New Year 2021's
#silversqueeze
phenomenon – saw iShares' Silver Trust (NYSEArca: SLV) grow by 0.4%, its first expansion in over 2 weeks.
But while the giant SPDR Gold Trust (NYSEArca: GLD) also expanded by 0.4%, growing for the 3rd session running to take its shares in issue to the largest since March 2021, the world's next largest
gold ETF
– the iShares' Gold product (NYSEArca: IAU) – was unchanged for the 3rd session running, holding at its largest size since start July.