Gold Price Rallies from NFP Slump But Dollar Gains Amid US-China Balloon Row
Monday, 2/06/2023 14:12
GOLD PRICES edged higher on Monday despite the US Dollar and US bond yields extending last Friday's steep rally as tensions between the US and China worsened over its 'weather' or perhaps 'spy' balloon, writes Atsuko Whitehouse at BullionVault.
Spot gold prices rose 0.5% to $1873 per ounce after falling 2.4% on Friday to set the lowest weekend LBMA benchmark price in a month after
blow-out US jobs data
said the labour market remains strong and business activity surveys said US manufacturing and services both saw new orders rebound in January.
With geopolitical tensions rising, the Dollar index – a measure of the US currency's value versus its major peers – edged higher to touch near 4-week highs Monday morning, extending Friday's jump on the non-farm payrolls data.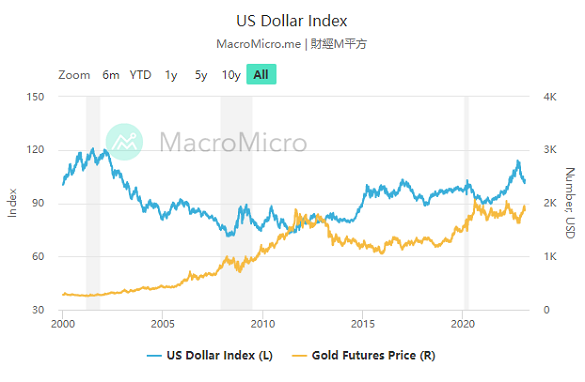 Friday's plunge in gold marked its biggest 1-day drop since early March 2022, when prices retreated from spiking near all-time highs at $2075 as the US and UK
moved to ban the import
of Russian goods and commodities in protest at President Putin's invasion of Ukraine.
"Gold's long overdue correction accelerated on Friday after stronger than expected US job and ISM reports saw the price tumble below support-turned-resistance at $1900," says derivatives platform Saxo Bank's strategy team.
But the metal has since bounced "over rising US-China tensions."
Saturday saw a US military fighter shoot down what Washington called a Chinese 'surveillance' balloon off the coast of South Carolina, a week after it first entered US airspace.
Beijing strongly
condemned the strike
on what it calls a meteorological and scientific instrument that had strayed into US airspace "completely accidentally".
The balloon prompted US Secretary of State Antony Blinken to postpone a visit to China.
"Both sides will likely impose more export bans on technology in different industries," Iris Pang, chief economist for Greater China at ING Group NV, wrote in a note.
Following Friday's shock US jobs figures, which put unemployment at the lowest since 1969 at 3.4%, both 10-year US Treasury yields and the real interest rate implied by inflation-protected 10-year TIPS today rose towards 1-month high at 3.61% and 1.35%, respectively.
Gold prices on the Shanghai Gold Exchange meantime continued to show a premium to London quotes, offering new imports an incentive of $20 per ounce on Monday – the highest in over 3 weeks – even as the Yuan price fell to ¥414 per gram, the lowest in nearly a month.
Gold priced in Euros meantime rose 0.8% above €1737 while
the UK gold price in Pounds per ounce
edged higher by 0.3% to £1551, paring the last week's losses of 2.9% and 0.6%, respectively.
Gold also rose for Japanese investors, adding 1.1% to ¥7949 per gram, as the Yen weakened against the US Dollar after the
Nikkei
newspaper
reported anonymous sources
saying that Bank of Japan Deputy Governor Masayoshi Amamiya is tipped to become the next Governor – a claim denied by a senior government official.
Amamiya played a key role in drafting current boss Haruhiko Kuroda's asset-buying program in 2013 and has consistently called for keeping Japanese interest rates at or below zero.
Asian and European stock markets fell despite German industrial orders beating expectations on December's new figures, posting the biggest increase in more than a year.
US equity futures also fell Monday as investors awaited tomorrow's speech from Federal Reserve Chairman Jerome Powell at the Economic Club of Washington.