Fed's Inflation Working as Planned
Tuesday, 10/19/2021 09:01
Banks are flying...
BANKS
are posting a strong quarter,
says Gary Tanashian in his Notes from the Rabbit Hole of last week's earnings reports.
The inflation (money printing by the Fed) has brought reflation (economic benefits of said inflation) and none are more targeted for benefit than the Pigs...err, that is, the banks.
I have not read the article, but you can if you'd like by clicking the graphic.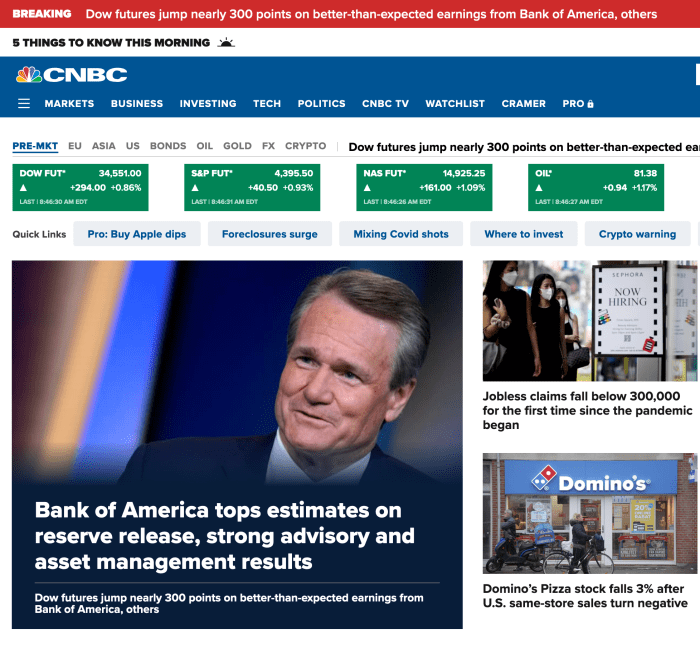 The headline gives reasons like something called a reserve release, advisory and asset management.
But the reality is that the Pigs benefit when (funny) munny is printed and they help distribute it into the economy in myriad ways, including borrow short/lend long, which is where the yield curve comes into play. The yield curve had been steepening last quarter as long-term Treasury yields found a low and also rose, albeit moderately.
So the bottom line is that the Fed's inflation is still actively reflating the economy, or at least it was last quarter.
As Stagflation becomes more of an issue we'll probably see less happy headlines and more concerning ones. But for now, party on Garth, because it's been a grinding stock market correction with investors' nerves frayed.
All you have to do is look at Ma & Pa (AAII), Investment Managers (NAAIM) and Newsletter writers (Investors Intelligence) to know that a relief value might be opened at any time.
The Fed's gift (of inflation) keeps on giving, for now it seems. Pigs are flying (I assume) and the rich guy in the photo has a shit eatin' grin on his face.
You've gotta love the US stock market and especially the funny munny mechanism that runs it.