Why BullionVault gives you currency and four grams of silver for free
We think BullionVault's trading platform is clean, intuitive and easy to use.
Tens of thousand of traders and investors think the same, because BullionVault is the No.1 service for buying and selling physical gold and silver. And we believe you will think so too after taking up our "try before you buy" offer of free silver and currency.
Try the best way to buy silver risk-free
Like all new users, you can "test drive" our platform right now, risk-free. That's because we provide free silver and cash whenever anyone opens an account, so that you can find out for yourself how BullionVault's live order board works with no risk or cost.
This free silver and cash – which you can use to "try before you buy" – will be yours to keep if you then decide to use BullionVault to buy silver, gold, platinum or palladium with your own funds.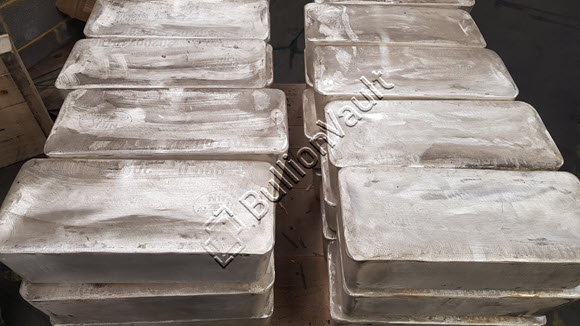 Activating your free silver and currency
To activate this free offer, new users can simply open an account by providing an email address and creating a username. No further personal details are required until you decide that we're right for you and you choose to add funds to your account. Then simply log in and use the cash you've deposited to buy the silver, gold, platinum or palladium bullion you want to own.
We will give you 4 free grams of silver the instant you open your account, as well as one US Dollar, one Euro and one British Pound. This free bullion and cash will enable you to sell and then buy real physical silver using our live order board.
At this point, you'll be trading risk-free, buying and selling alongside other BullionVault customers all around the world, but with no risk to your pocket, because the small amounts of dealing commission we charge will be taken out of the free currency we've given you.
How to start trading with your free silver
Click on Open Account and enter the simple details required. Once you've done that, click the Account tab and check your Balance. Even though you've yet to make a deposit, you'll see that your account contains $1 and £1 and €1 in currency, plus 4 free grams of silver bullion – securely stored and insured for you inside the Zurich vault in Switzerland.
Use the live order board to sell a gram or two of your Swiss-vaulted silver. As an example, you could sell that silver for US Dollars, then use those Dollars to buy silver in Singapore. Next, sell your Singapore silver for Euros or Pounds Sterling, and use that cash to buy silver in London or Toronto.
Real silver trading, live online
By playing with your free silver like this, you'll quickly experience – risk free – how the BullionVault order board allows you to get the best price for buying or selling physical bullion in live markets across the world.
This is not "play money". You are using real silver and currency – buying and selling physical bullion held securely within professional market vaults in Europe, Asia and North America. It simply gives you an opportunity to familiarise yourself with this live market in a "play" scenario, without risking any money yourself.
Try before you buy with your own money
Of course, you're not going to make a fortune with the small amount of metal you receive for free when you open your account. But you can profit long-term from this offer, because it will show you how BullionVault provides the very best way for you to buy, own and sell physical precious metals.
Using your free silver, practice trading on the order board before you deposit your own funds, ready to buy silver, gold, platinum or palladium when you are ready. You can learn how our account interface works and see how the order process works. You'll get confirmations for your orders and deals, and you'll see that new purchases or sales are instantly recorded on your Account Balance. You can also take this opportunity to browse our in-depth content and FAQs covering all aspects of the silver, gold, platinum and palladium markets – something we recommend to savers, investors and traders new to the physical precious metals market.
Practice 'making the market'
Just like a BullionVault user trading with their own money, you can also become a "market maker" on the order board using your free silver and cash. Simply enter your own price to buy (or sell), slightly higher than the current Best Bid (or just below the current Best Offer). You are now best price to all potential sellers (or buyers). So watch to see another user accept your price and match your deal, instantly exchanging currency for securely-stored physical bullion.
Of course, trading on BullionVault, like enjoying ultra-secure storage with insurance included, incurs a small cost. You can review all our fees and charges on our full tariff here. Meanwhile, the small amount of currency we give you for free will cover the commission charges incurred, and we don't charge any storage for your small amount of free silver.
Can I get my free silver sent to my house?
This gift is made so that you can test-drive BullionVault for yourself, to see if it's the best way for you to buy physical silver, gold, platinum or palladium. So to avoid abuse of this offer, we cannot let people withdraw that free silver or currency without funding their account. Any unfunded accounts that have been inactive for over a month will have their free silver taken back, allowing other new customers to benefit from the offer.
Until then, the metal and currency is yours to speculate with, profit on, and keep. And if you do fund your account you'll be adding to the balance you already own and the free silver (or whatever you've converted it to on our trading boards) will be permanently yours.
Take the next step in trading bullion
Providing free silver and currency is the simplest way to enable new users to experience buying and selling on BullionVault for themselves. After trying us out, and learning about our transparent low cost pricing and reading our positive customer reviews, many new BullionVault users go on to join the 100,000 others who now trust us with more than $3.9 billion in bullion and cash.
Both the free silver and any subsequent deposits can be traded on our live order board 24/7, either on your browser or via our mobile app.
Trade real silver tax-free
In the UK, gold and silver incur no sales tax (VAT) when kept within an accredited professional-market vault. However, unlike gold, silver is subject to 20% VAT if it is taken out of the vault. This is the major reason that silver coins and small silver bars sold by coin dealers are significantly more costly than silver bullion held using BullionVault.
American residents can also hold gold and silver in an IRA. And because BullionVault is the world's largest online bullion marketplace, you can trade silver and gold 24/7 even when the main markets are closed. Comparing BullionVault's silver prices against the spot silver prices is simple and demonstrates the tight spread operated.
For more information, see our buy silver online page or contact us using the details below.
Open a new account and claim your free silver
Open a BullionVault account and claim your 4 FREE grams of silver. The metal is ready and waiting for you in a professional market vault in Zurich.
Please note: This page isn't about the historical Free Silver Movement, starting with 'the Crime' of 1873 and running through to the repeal of the Silver Purchase Act in 1963. But it will give you free silver, plus a little currency, to kick-start your own investing in physical silver bullion.