Gold and Silver Sink as Fed Says 2023 Pivot Ain't Gonna Happen
Thursday, 1/05/2023 14:41
GOLD and SILVER PRICES sank against a rising US Dollar on Thursday as bond prices and stock markets also fell, erasing this week's New Year 2023 jump after the US Federal Reserve made it clear that it doesn't plan any cuts to US interest rates in 2023.
US job cuts meantime came in smaller and employment growth stronger than analysts expected on today's Challenger and ADP data series.
Both new and ongoing claims for jobless benefits meantime showed a small decline on the latest weekly figures.
Gold erased almost all of this week's earlier pop to 7-month highs at $1865 per ounce, but unlike
silver prices
held above last weekend in UK Pound and Euro terms.
In contrast to Dollar gold prices, down 1.8% from this week's peak by the close of London trade Thursday, bullion in Euro terms lost only 1.0% and
the UK gold price in Pounds per ounce
slipped barely 0.5%.
"A number of participants [also] emphasized that...a slowing in the pace of rate increases was not an indication of any weakening of the Committee's resolve," adding that "because monetary policy worked importantly through financial markets," the Fed should stress its commitment to high rates in the face of growing expectations of a 'pivot'.
Having reached 3-in-4 last week, the odds of a 'baby-step' rate rise at the Fed's next meeting in February today sank to barely 1-in-2 according to betting on CME derivatives.
The odds of Fed rates ending 2023 at a ceiling of 5.0% or above meantime leapt from 1-in-3 to almost 1-in-2, the highest since end-November.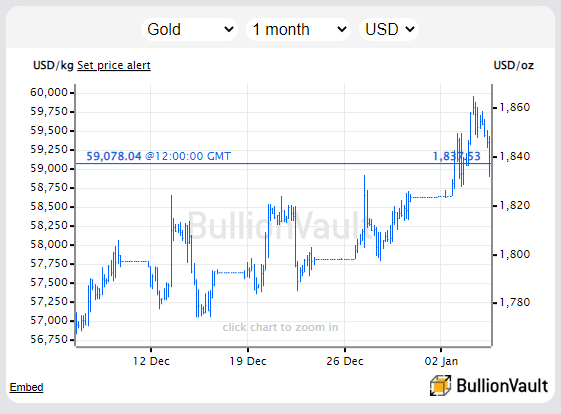 "Gold [overnight was]
holding remarkably steady
despite Fed minutes," said New York trader Tai Wong at bullion refining group Heraeus to the AFP, "[which were] contrary to what the market has priced."
But provisional data compiled by the mining industry's World Gold Council says that December already saw global
gold ETFs
shrink to need 10 tonnes less bullion backing than at end-November as investors sold out.
For 2022 as a whole, the resulting 115-tonne reduction would mean a net outflow of 3.2% across the 158 gold-backed trusts
tracked by the WGC
worldwide.
With the gold price in Dollars down by a little over $8 per ounce (0.4%) on New Year's Eve from 12 months earlier, that equates to an impact of just 7 cents per tonne – the weakest link between global gold prices and ETF activity since 2018 saw bullion-backed trust funds expand by 3.1% while the gold price itself lost 1.1%.
Wednesday saw the giant gold-backed GLD ETF shrink by a further 0.2% but the smaller IAU trust fund expanded for the 2nd session in a row having seen no net inflows in more than a month.
Silver's largest bullion-backed ETF, the iShares product (NYSEArca: SLV), meantime shrank by another 0.3%, extending its outflows from the
#silversqueeze peak
of 2 years ago to almost one-third.
Silver bullion peaked close to $30 per ounce in New Year 2021 as calls to buy the metal flooded social media, claiming that strong demand would force bearish speculators to close their short positions and spike the price to record highs.
Silver today slumped into the start of London trading, losing over $1.30 from Tuesday's 9-month high before rallying 30 cents to $23.50 per ounce, more than 50% below the all-time nominal peak of $50 hit in New Year 1980 and again in spring 2011.
Besides releasing its December meeting notes, the Fed was one of 3 national agencies to
issue a joint warning
about the risk to US banks from working with the crypto-asset sector yesterday, just as 30-year old FTX CEO Sam Bankman-Fried
entered a not guilty plea
in his trial for $8 billion of fraud.
The original 'digital asset', Bitcoin today slipped back from 1-week highs to trade at $16,780 – down more than 75% from its November 2021 peak.
The Fed's minutes include the word "inflation" 103 times, far ahead of "employment" plus "jobs" with 36 combined, or "growth" at 28.
The word "recession" appears only 3 times.
With bond prices dropping, longer-term borrowing costs rose across Western markets from yesterday's 2-week lows as stock markets fell with gold and silver.