Gold Prices Fall after Merkel's Re-Election in German Election
Monday, 9/25/2017 14:42
GOLD PRICES eased back on Monday in London but stayed above last week's near 4-week low after Angela Merkel won the general election in Germany, writes Steffen Grosshauser at BullionVault.
The US Dollar rose and the Euro fell however after the right-wing Alternative for Germany (AfD) party won 1-in-8 votes in the German elections.
With Dollar gold prices slipping back towards $1291 per ounce, that pushed gold in Euro terms back up to €1090, some €10 above Friday's 1-month low.
While Angela Merkel managed to secure her fourth term as Chancellor in Sunday's election, her conservative CDU/CSU bloc saw its lowest support in almost 70 years.
"With the German, French and Dutch elections now complete, the political risk from Euro-sceptic parties – one of the main concerns of 2017 – is now largely alleviated," said Peter Wilmshurst at US investment firm Franklin Templeton.
Speculative investors in US Comex futures and options had already reduced their net long positions in gold for the first time in ten weeks in the week to 19 September, according to the latest data by US regulator the Commodity & Futures Trading Commission (CFTC).
The positions were reduced by more than 8% to 754 tonnes after reaching a 1-year high in the previous week.
The net long positions of silver were also down by 10% after eight weeks of continuous growth.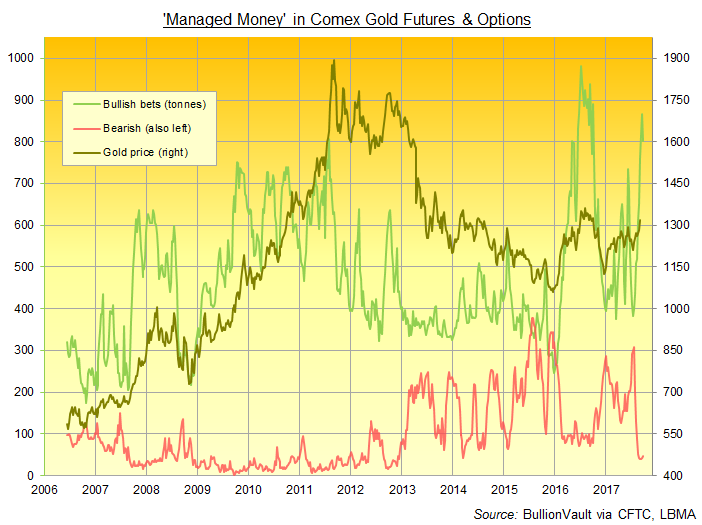 Winning its first-ever parliamentary seats, the anti-immigration, anti-Islam AfD vowed to fight "invasion of foreigners" following Merkel's 2015 decision to welcome around 1 million refugees and migrants primarily from the conflict in Syria.
Merkel now faces potentially complex coalition negotiations as her current coalition partners, the Social Democrats (SPD), announced they
would go into opposition
.
"Merkel's win in the German federal elections and a quiet news weekend on the North Korean front, saw the US Dollar opening stronger and gold's weekend safe-haven premium eroded from Friday," reckons Jeffrey Halley, senior market analyst at spread-betting platform Oanda.
After last week's Federal Reserve meeting
caught traders off-guard
by confirming the central bank will trim its $4.5 trillion balance sheet starting next month and by signalling a further rate hike before the end of the year, committee members William Dudley, Charles Evans and Neel Kashkari were all due to speak later today.
Fed expectations are "[having] a strong influence in pushing gold prices lower as well," says Singapore-listed bank OCBC's analyst Barnabas Gan.
"A year from now, gold will be demonstrably higher than it is right now," said commodities expert Dennis Gartman, founder and publisher of trading advisory The Gartman Letter, in an interview with CNBC's Futures Now.
"I would certainly think we could see $1400 [per ounce] in Dollar terms...[This is] only a correction."
In contrast to futures and options speculation, investor interest in the largest gold ETF, the SPDR Gold Trust (NYSEArca:GLD), increased last week, raising the quantity of bullion needed to back the fund by 17.4 tonnes to a 3-month high at 856 tonnes.