High Gold Price Spurs Investment Selling, Not 'Safe Haven' Buying, as ETFs Shrink
Friday, 10/27/2023 15:20
The GOLD PRICE in London's professional bullion market fell $10 per ounce into Friday afternoon's benchmarking auction, dropping towards $1982 to trade almost unchanged from last week's 5-month high as Israel continued to prepare for a ground invasion of Gaza.
But Western gold investment products in fact continue to see strong outflows, with the world's 2 largest
gold ETFs
– the GLD and IAU trusts traded on the New York stock market – heading for their 8th and 14th weekly outflows respectively, shrinking to the smallest combined size in 4 years.
BullionVault users had by Thursday night taken their net selling to more than half a tonne from end-August's record-high
vaulted gold holdings
.
"Investment in precious metals in 2023 is significantly below last year's level," confirms another retailer in Germany, the world's 3rd largest private bar and coin consumer in 2022.
On top of that, "Thanks to the increased prices, many investors are taking profits and selling bars and coins" back to them.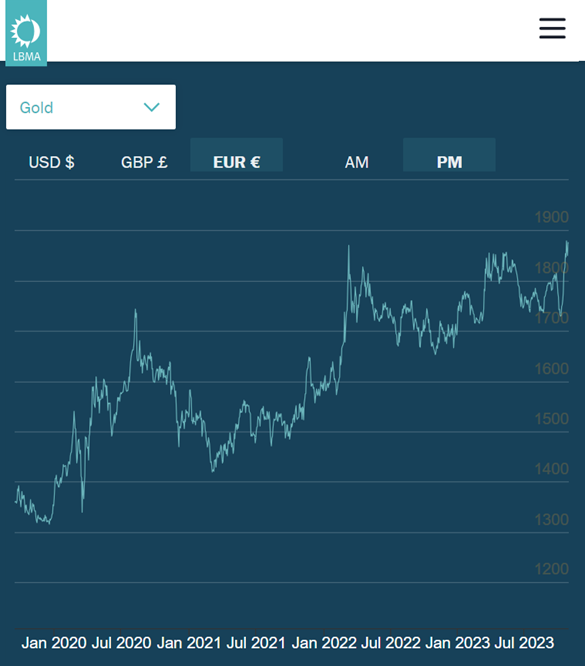 Priced in the Euro, gold bullion today slipped 0.2% from last Friday's record-high global benchmark of €1879 per Troy ounce.
With the Bank of England expected to hold UK interest rates at a 15-year high of 5.25% at its November meeting next week, the European Central Bank held its overnight deposit rate at a currency-union record of 4.0% on Thursday.
US data meantime said the world's largest economy grew at a 4.9% annualized pace between July and September – the fastest pace of GDP growth in nearly 2 years – with new figures today saying personal income growth slowed but spending jumped and PCE inflation held firm at 3.4% per year last month.
Both new and continuing US jobless benefit claims yesterday showed a rise on data for last week, but starting from historically low levels.
Durable goods orders from September meantime came in stronger than expected, as did the US trade deficit in goods as well as the number of home purchases now pending.
On a weekly basis, the price of London silver meanwhile lost 2.0% in Dollar terms from noon last Friday, reversing just over 1/5th of its previous gains from the 30-week Friday low of $21.15 set on 6 October, eve of Hamas' terrorist atrocities across southern Israel.
The Dollar gold price fixed 8.9% higher from that Friday 3 weeks ago, showing its fastest such rise since August 2020 marked the peak of gold's first-wave Covid surge to new all-time record highs above $2000 per Troy ounce.