Gold and Silver Prices Erase Rally as Powell 'Confuses the Markets" Again
Wednesday, 2/08/2023 15:11
GOLD and SILVER both gave back a small rally on Wednesday to trade little change for 2023 to date after comments from Federal Reserve chairman Jerome Powell again confused analysts and pundits over the Fed's outlook for inflation and interest rates.
"Fed Chair sticks to the script. More rate hikes are coming,"
says Barron's
following Powell's answers yesterday to questions from his audience at the Economic Club of Washington.
"[But while] Powell's speech was hawkish,"
says CNBC
, "investors' mood was bullish."
"This divergence between the Fed policy outlook and financial market expectations has remained notably wide and in turn underpinned the recovery in gold," says a new note from specialist analysts
Metals Focus
.
"We continue to believe that interest rate cuts are unlikely this year," says the consultancy, the 3rd most bearish forecasters for gold in the new
LBMA 2023 Forecast Survey competition
. "This, coupled with falling inflation, will lead to rising real rates and in turn undermine gold prices as we move ahead in 2023."
Gold today fell back almost $15 per ounce from an earlier rally to 4-session highs at $1886, while silver dropped 25 cents from its peak above $22.50.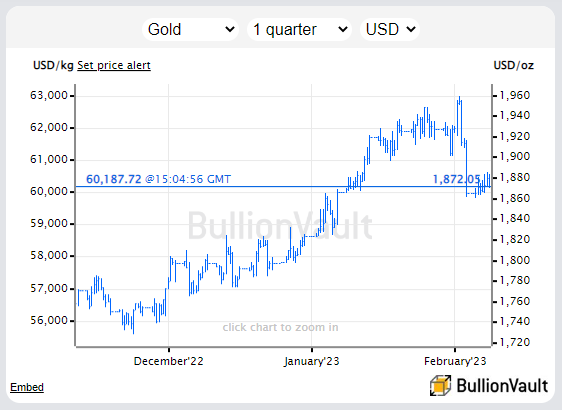 Betting on 'no change' in Fed rates at its next meeting in March has now evaporated to zero,
according to data
from the CME derivatives exchange, with speculators instead putting 94% odds on another quarter-point rise and 6% odds on a half-point hike.
Betting on December's decision meantime sees a 2-in-3 shot that the Fed will end 2023 higher from today's rate of 4.75%, leaping from just 1-in-8 this time last week.
Longer-term US interest rates slipped back Wednesday from yesterday's new 5-week high at 3.67% on 10-year Treasury yields.
For European investors as well, "I would strongly advise interpreting the latest [European Central Bank] statement for what it is," says German Bundesbank president Thomas Nagel in what financial magazine
Boersen Zeitung
calls "a
clear warning
to the markets" – "a robust announcement that points beyond the March meeting.
"From where I stand today we need further, significant rate hikes...But I find it right that we proceed step by step."
Western gold investment flows were mixed overnight, with the giant SPDR Gold Trust (NYSEArca: GLD) expanding 0.3% to need 920.8 tonnes of bullion backing, the most since end-October, but the smaller iShares gold ETF (NYSEArca: IAU) shrank 0.4% to need fewer than 450 tonnes, edging back to its smallest since New Year.
Silver's giant iShares ETF product (NYSEArca: SLV) meantime grew 0.5% to need over 14,946 tonnes of bullion backing – equal to more than 6 months' global silver mine out – after expanding for the 3rd session in a row to the biggest since start-November.
Global stock markets rose within 1% of last Thursday's 6-month high on the MSCI World Index, while crude oil also rallied further from its recent sell-off, adding 1% to European benchmark Brent, after US data said energy stockpiles in the world's largest economy shrank last week rather than growing as analysts forecast.