Gold 'To Do Well' in US Recession as GOP Tries to Calm Debt-Ceiling 'Alarm'
Wednesday, 1/25/2023 15:03
GOLD PRICES edged back Wednesday but held sharply higher for 2023 to date as wrangling over the US debt ceiling continued in Washington ahead of tomorrow's key GDP data and next week's Federal Reserve decision on Dollar interest rates.
With the
'recession warning'
from an inverted yield curve between 10- and 2-year US Treasury bonds now running unbroken for more than 6 months – the longest such stretch since 1978-1980 was followed by 2 economic downturns in 2 years – Western stock markets slipped as did commodity prices including crude oil.
Yesterday's rally in the US Dollar from new 9-month low on the forex market had boosted the price of gold in other currencies, setting a new all-time high in Japanese Yen overnight above ¥8,100 per gram and coming within £3 per ounce of a record
UK gold price in Pounds per ounce
at £1577 before also dropping back.
Euro gold prices held lower for the week so far at €1771 as the Dollar price traded $10 either side of $1930.
"For [US] prices to breach the $2000 level, the US Dollar
has to continue weakening
," Reuters quotes one futures and options salesman.
"The main reason for the rally in gold is the expectation that the US
Federal Reserve will slow the pace
of interest rate rises, and in due course start to reduce the cost of borrowing again," says a 'market insight' blog from giant US equities platform Fidelity.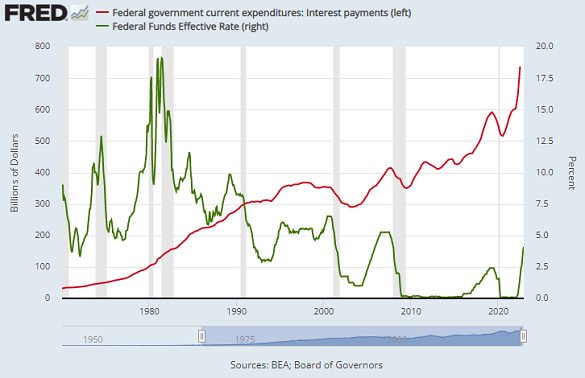 "Gold
tends to do well
in [both] absolute and relative terms during US recessions; gold equities have done even better," says UK gold-mining-stock fund manager James Luke at investment management firm Schroders.
"Investors should not just be looking at gold, they should be buying it. Silver too," says long-time precious-metals promoter Peter Schiff, founder of Europac bank –
now in liquidation
following what its regulator in Puerto Rico called "a
long history
of noncompliance" over anti-money laundering rules.
"The crisis is the debt, not the ceiling," Schiff continues, talking to FoxBusiness about the "extraordinary measures" taken by the US Treasury to avoid defaulting on its bond repayments after the federal debt last week reached the $31.3 trillion limit
set by Congress
in late-2021 – creating a "mess [from which] there is
no easy escape
," according to
The Economist
magazine.
Risking
a 'government shutdown'
of some services if the highly partisan row between Democrat and Republican politicians isn't resolved, similar 'debt ceiling' crises saw the gold price in Dollar terms unchanged near multi-year lows across October 2013, but it rose 3.7% in January 2018 and added $90 per ounce during the protracted shutdowns of 12 months later.
"[We need] proper messaging," today's
Washington Post
quotes an un-named Republican Congressperson, apparently hosting an 'educational' session for fellow GOP politicians so that "people [who] are less informed about the [debt ceiling and the difference between debt default and a government shutdown]
don't go out and make statements
that alarms people on both sides of the aisle."
Like gold in Dollar terms, silver meantime held little changed Wednesday, trading around $23.50 per ounce after giant silver investment trust the SLV expanded again overnight, needing an extra 65 tonnes of bullion backing after Monday's
near-record silver ETF growth
of 572 tonnes, made as prices spiked lower.