Big 2's Gold Buying Sinks as Prices Jump
Wednesday, 4/20/2022 11:00
Demand falls from 2021 surge in China and India...
GOLD's price jump following the Russian invasion of Ukraine has dented demand in the precious metal's top 2 consumer nations, hitting household buying after it leapt to multi-year records in 2021.
Jewelry, coin and investment gold bar demand in China and India accounts for more than half of all end-use gold buying worldwide.
Last year, and even as global gold prices edged higher to
a fresh 12-month record
, their household spending more than made up for the prior year's
historic Covid lockdown slump
, giving the two gold giants a combined annual average outlay on gold of $82 billion in each of 2020 and 2021.
That was just ahead of the pre-Covid decade's annual average of $80bn according to data published by the mining industry's World Gold Council.
"Physical demand not only dried up but selling developed in much of south-east Asia."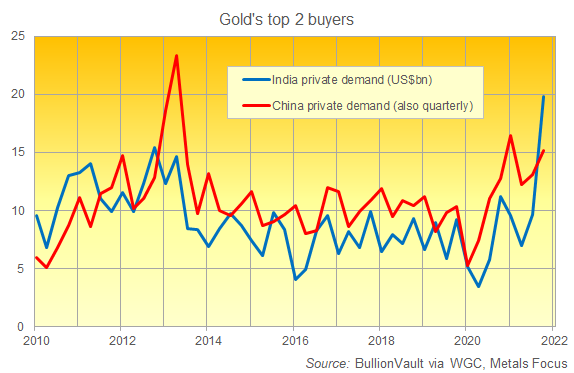 Most notably, gold prices in India have
dropped to steep discounts
against global rates since the invasion began, suggesting that the record-heavy Dollar value spending of end-2021 has been followed by a weaker balance of domestic demand over supply in the precious metal's No.2 consumer market than even in mid-2020, deterring new imports.
Gold landed in China – from where
bullion exports are also banned
– has similarly been offered at a discount to global quotes, albeit of just $8 per ounce when gold jumped in early March and now of less than $5 on data compiled by BullionVault, as excess supply is trapped from being sold elsewhere.
With prices rising and demand weakening, withdrawals of gold from the Shanghai Gold Exchange – the only legal route for bullion bars to enter the world's No.1 gold consumer nation – "
saw a sizable year-on-year fall
in March," says senior WGC analyst for China, Ray Jia.
Pointing to the impact of anti-Covid lockdowns now re-imposed on major Chinese cities, Jia says that made January to March – a crucial period as it includes the Chinese New Year shopping and gifting sprees – "the second weakest Q1 for wholesale gold demand [through the SGE] in the past decade."
The first 3 months of 2021 in contrast marked the heaviest-ever quarterly gold spending among Chinese and Hong Kong households outside of 2013's record highs, equal to some $16.5 billion.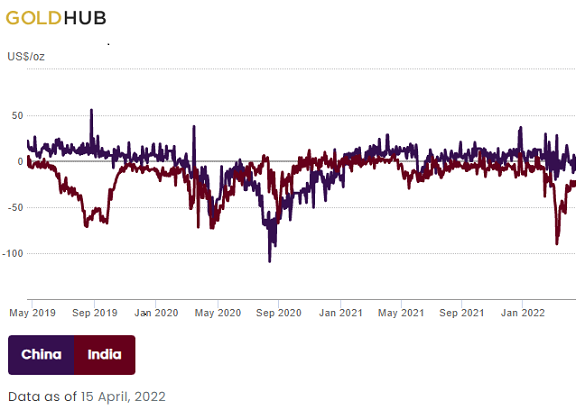 China's official wholesale price averaged ¥385 per gram between January and March 2022, the most expensive quarterly rate since Q4 2020 and barely 7% below the record average set in Q3 2020.
India's domestic gold prices have meantime risen further from 2020 and 2021's annual average records, reaching more than 49,000 Rupees per 10 grams
so far in 2022
and touching fresh all-time highs above 54,000 in the southwestern
coastal state of Kerala
, India's top gold-buying region.
But accounting for import duty and GST sales tax, bullion dealers in India offered gold at discounts as deep as $90 per ounce compared to quotes in London – the global market's central storage and trading hub – as the precious metal briefly topped $2000 per ounce in early March, cutting that discount to $40 in early April and
then $12 last week
according to Reuters as global prices eased back.
Ahead of the Akshaya Tritiya spring festival – an increasingly important gold-buying season
badly hit by anti-Covid lockdowns
in 2020 and 2021 – "Demand is slowly improving but higher prices are working as a big deterrent for retail buyers," says Mukesh Kothari at wholesale dealer RiddiSiddhi Bullions in Mumbai.
"Higher prices
could spoil demand
during upcoming festivals and wedding season," agrees a bank dealer.
Trimming its estimate of 2021's economic growth for both China and India, the International Monetary Fund said Tuesday that it has
also cut their 2022 and 2023 outlooks
sharply as part of downgrading global GDP expansion from 4.4% and 3.8% to 3.6% for this year and 3.6% for next as a result of surging inflation and Russia's attack on Ukraine.
While "reflecting in part weaker domestic demand, as higher oil prices are expected to weigh on private consumption and investment," the 2022 downgrades of 0.4 percentage points for China and 0.8 for India for 2022 from January's estimate are dwarfed by the 11.3-point cut to Russia and the 1.1-point cut to the IMF's GDP expectations for the 19-nation Eurozone.