Your ownership proven each day#
Only BullionVault publishes a Daily Audit of client property, on the internet for public scrutiny. Independent, third-party documents show that your property is where it should be - in full, each day - and in your name, proving that there are not multiple claims on the same metal. An anonymous nickname means that you alone can see how much gold you own in the vault.
Wholesale bars, wholesale prices#
Buying wholesale is always cheaper than retail, and BullionVault gives you access to wholesale bullion bars from as little as 1 gram at a time. Your gold holding is made up of 1 gram slices of a wholesale bar. Holding bullion in this form means the liquidity of the global wholesale market is on tap. It also means you do not need to pay retail fabrication costs up front. All gold coins and small bars start their lives as part of large, wholesale units, which are melted down and recast into smaller units for retail investors. But with BullionVault, you only pay those fabrication costs if you opt to take physical possession, out of the vault.
No dealer, no middleman#
On BullionVault you're cutting out the middleman to trade directly with other private investors in a free, competitive market, where all users can quote and accept buy and sell prices on BullionVault's live exchange. Allowing all users to quote competing prices lets you buy gold and silver at the lowest possible price. BullionVault also offers bid and ask prices to ensure liquidity.
Simple, transparent charges#
BullionVault offers unbeaten low costs for dealing. There's no joining fee and no minimum deposit. Just a simple, low-cost way to own gold and silver safely and securely in a vault of our choice. Estimate your commission and storage fees using our cost calculator.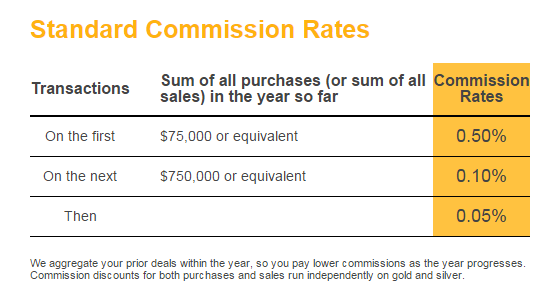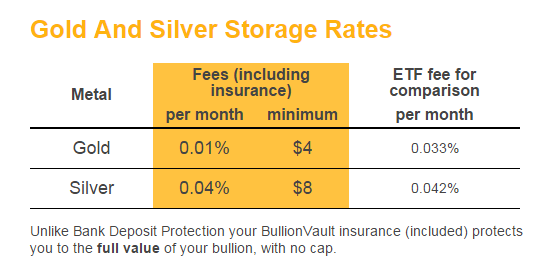 24-hour online dealing#
You can check your account, and buy and sell at any time of the day or night. Use one of BullionVault's mobile applications, and you don't even need to be at your computer.
Unique accreditation#
BullionVault is a full member of the London Bullion Market Association (LBMA), the professional trade body that represents the wholesale market for gold and silver in London. Our vault operators, Brink's, Loomis International and Malca-Amit, are also full LBMA members. BullionVault is also an associate member of trade body the London Platinum & Palladium Market (LPPM).
BullionVault is part-owned by Augmentum Fintech plc (a listed subsidiary of RIT Capital Partners) and Gold Bullion Investment Trust (a connected organisation of the World Gold Council) which also acquired 11% of BullionVault in 2010 and then transferred its holding to GBIT in 2016. Both organizations conducted extensive due diligence before making their investments.
BullionVault's audited accounts are available to view online. An annual inspection of metal in the vault is conducted by assayers Alex Stewart International, whose report is published on the website of Armstrong Watson, BullionVault's independent auditors.
Trustable Gold rates BullionVault as a trusted provider of vaulted gold, and ranks BullionVault as having the lowest dealing costs of all providers in its comparison calculator.
BullionVault uses Trustpilot to collect and verify our customer reviews and make them available to everyone on the internet. Using an independent review site in this way provides prospective customers with confidence about our service.
What next?#
If you're thinking about buying gold, platinum, palladium or silver, it's natural to have a lot of questions about the best way to do it. The areas covered above only scratch the surface. For more information visit our homepage or contact us direct.