Gold Price +1.8% for Week But Silver Flat on Fed Caution, Yield Spike Pullback
Friday, 3/03/2023 15:24
The PRICE of GOLD held onto most of this week's rally in London trade on Friday but silver failed to rebound despite 2 officials from the Federal Reserve urging caution on raising US interest rates too far, too fast.
With bullion priced in the Dollar gaining 2.1% from
Tuesday's new 2023 gold low
of $1805 per ounce, global stock markets also rose again – adding 0.8% from last Friday's finish on the MSCI World Index – after Atlanta Fed president Raphael Bostic
called for a quarter-point rate rise
at this month's meeting, rather than the half-point hike now expected by more than 1-in-4 bets on interest-rate futures.
Fixed-income bond prices also rose Friday, pulling the yield offered by 2-year US Treasurys down 0.1 points from yesterday's
fresh 15-year high
near 5.00% per annum, while the US Dollar slipped 0.5% from last Friday's multi-week high on its trade-weighted index against the rest of the world's major currencies.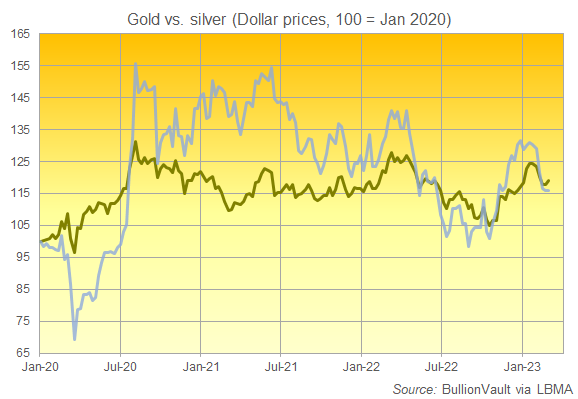 Gold priced in the Dollar slipped $6 per ounce from a 12-session high set Friday morning, heading into the London benchmarking auction at $1842, some 1.8% above last week's closing Fix.
Silver prices
in contrast held unchanged from last Friday's finish in the London bullion market – a 16-week Friday low – trading at $21.09 per ounce around today's midday benchmarking auction.
Nickel's dramatic spike of March last year, when the Hong Kong-owned London Metal Exchange annulled $20bn of trades to avoid bankrupting heavy short-seller Tsingshan Holding Group, a Chinese nickel producer, at the expense of bullish traders, is now the subject of "an
enforcement investigation
into some of the LME's conduct and systems and controls" said UK regulator the FCA today.
The "first ever investigation of a UK exchange for possible misconduct" according to Reuters, today's news coincided with the Bank of England announcing that its review of the incident will now see the UK central bank "monitor and assess...
progress [on] remedial actions
" needed by the centrally-cleared contracts exchange.
Gold priced in the Euro and the UK Pound meantime touched near 3-week highs at €1740 and £1540 respectively, but silver fell back against both currencies as well as the Dollar as New York trade began, trading flat from last weekend's Comex close at €19.70 per ounce, £17.40 and $20.90.
Shanghai gold prices had earlier held their strongest premiums over London quotes in 4 months, offering new imports of bullion into the precious metal's No.1 consumer nation more than 4 times the historic average at $35 per ounce.
Matching the week's average level on analysis from BullionVault, that put Shanghai's underlying gold premium at the highest since mid-October.
Global gold prices were then trading more than $200 below this week's level.
"We heard from the marketplace that quotas to import had been approved," Reuters quotes Swiss bullion refining and finance group MKS Pamp's Bernard Sin, regional director for Greater China, reporting that
bullion is indeed being shipped in
.
Gold No.2 consumer market India meantime saw premiums to London quotes reach $1 per ounce this week – also suggesting solid demand – after slipping back to a discount once the country's heavy import duty and other bullion taxes are included.
Down more than 5% from last month's new all-time Rupee record, the "correction in prices" has seen retail demand "improving in the past few days," says one Mumbai wholesaler