Central Bank Gold: WGC Estimate Outruns IMF Data by 53% Since 2013
Tuesday, 10/31/2023 15:13
The GOLD PRICE in Dollars rose through $2000 per Troy ounce for the 8th time in 3 sessions on Tuesday, trying again to hold that 'key psychological' level as new data said that central banks have doubled their demand for bullion reserves over the past 12 months.
Israel meanwhile intensified what US and UK media are now calling its "invasion" of the Gaza Strip, rejecting international calls for a ceasefire as it pursues Hamas terrorists behind the 7th October atrocities, since when the price of gold bullion has now risen by 9.1%, led by
a surge in speculative Comex gold futures and options
trading.
Publishing data from independent analysts Metals Focus, and using intelligence from its own survey of central banks, the WGC's estimate for central-bank demand is now running 53% above the level of demand reported by central banks themselves in data gathered by the International Monetary Fund.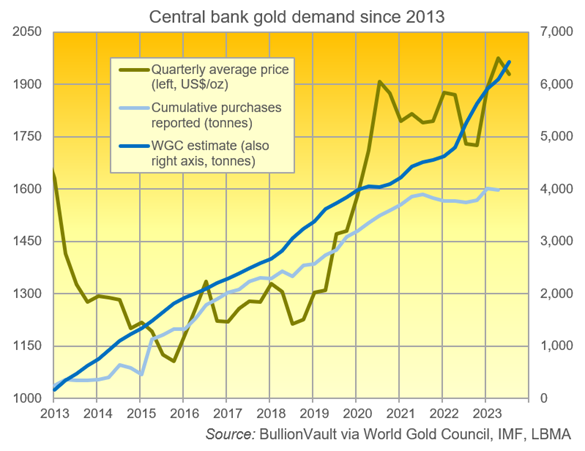 "We need to create a resilient portfolio against all shocks and changes around us. So, diversification is the key issue,"
says Bank of Thailand
deputy governor Alisara Mahasandana, stressing the importance of gold bullion but "declining to give details of official gold purchases" after the BoT doubled its
central-bank gold reserve holdings
in 4 years but then stopped updating the IMF at the start of 2023.
With the IMF's latest data showing 114 tonnes of net central-bank gold demand worldwide for July and August combined, today's full third-quarter estimate from the WGC comes in nearly 3 times larger at 337 tonnes – the highest quarterly growth since at least 2010 besides Q3 and Q4 last year.
Over the last 4 quarters, today's WGC data say, central-bank gold demand has more than doubled from its prior 5-year average, leaping by 114.1%.
Global jewelry demand has meantime risen by 7.0% from its previous 5-year average, but industrial and technology demand has fallen by 11.1%, gold coin and small-bar demand has dropped by 27.1%, and investment via gold-backed exchange-traded trust funds (ETFs) has sunk, flipping negative and returning 278 tonnes of bullion to the market after acquiring an average of 244 tonnes per year between Q4 2017 and Q3 2022.
Giant
gold ETF
the GLD shrank by another 0.3% on Monday, while No.2 competitor the IAU held unchanged in size at its smallest since April 2020.
The price of gold in China – the precious metal's No.1 consumer market – today rose to new all-time highs for the 4th session running, and "Gold demand loses lustre in peak festival season in India as prices rally," says a
Business Standard
headline about
the run-up to Diwali
in gold's 2nd largest consumer nation, falling on 12 November this year.