Gold Bounce Fails, Drops 4.1% in Sept as GLD ETF Shrinks to 4-Year Low
Friday, 9/29/2023 16:12
GOLD PRICES erased a bounce from this week's steep plunge in London trade Friday, dropping back to 6-month lows against the Dollar – and tracking this month's outflows from gold-backed ETF trust funds such as the GLD – as soft US inflation figures were followed by stronger-than-expected US consumer confidence data.
While household sentiment on the University of
Michigan's monthly survey
edged further below July's 2-year high, it was revised higher from September's initial reading as respondents also raised their 5-year outlook for inflation in the cost of living.
"While gold technically is oversold" – now down 4.1% for the month of September in Dollar terms –"there is not much on the horizon for a large bounce," says a note from the trading desk at Swiss refiners and finance group MKS Pamp.
"China is out for Golden Week [until Monday 8th October],
removing a potential big bid
, and while physical demand in other regions has returned (US retail investors, Middle East and Far East), that is supportive, not outright bullish."
Before closing for 6 sessions yesterday, the Shanghai Gold Exchange – where strong demand and tight supply saw wholesale prices in the precious metal's No.1 consumer market hit
all-time gold highs
this month – announced that when it re-opens after the holiday, foreign financial institutions will be able to
open and use 'non-resident settlement accounts'
for trading the Exchange's 'international' free-trade-zone contracts.
But with fund managers and other investors worldwide cutting their exposure to gold prices as a group in September, the giant GLD gold-backed exchange-traded fund has now shrunk in 7 out of 9 months so far in 2023, shrinking by more than 5.2% across the third calendar quarter of the year to reach its smallest size since August 2019 this week.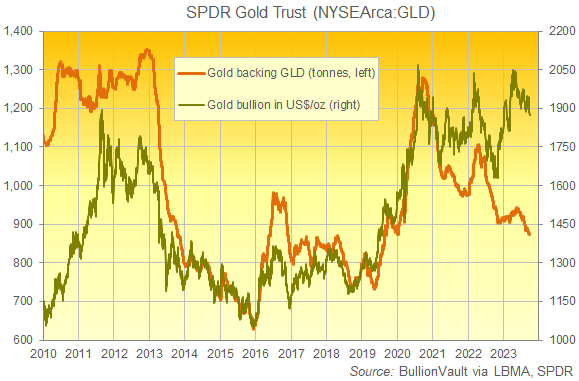 No.2
gold ETF
the IAU product – also listed and traded on New York's stock market – has meantime shrunk by 3.1% this week alone, its 10th consecutive weekly outflow and now the smallest since April 2020.
"Consistent selling every day except one in September," says O'Connell of the gold ETF sector's global footprint.
"The pickup in the pace of ETF selling seems like a step change with prices [now below] $1900," says MKS Pamp.
Having rebounded $20 overnight and this morning, gold fell 1.0% into London's PM benchmark auction on Friday, fixing at around $1862 per Troy ounce – the lowest since 10 March, before
the SVB banking crash
spurred a 'mini crisis' which ended with the forced takeover of former Swiss giant Credit Suisse.
So-called 'core' PCE inflation – the Federal Reserve's preferred measure, targeting a pace of 2.0% per year – earlier
came in at 3.9% for August
on the Bureau of Economic Analysis' new data, slower from July and in line with analyst forecasts at the weakest since May 2021.
Only 15% of bets on the Fed's next interest-rate decision, due in November, now expect it to raise the cost of borrowing to a ceiling of 5.75%, barely 1/3rd the proportion seen at the end of last month.
Consensus bets now foresee the first rate cut coming in June, with positioning on that outcome increasing slightly from this time last week according to date from the CME derivatives exchange's
FedWatch tool
. But while bond-market prices also rallied further with equities on Friday, erasing all of this week's previous slump, longer-term US Treasury yields remain near those new 16-year highs.
In contrast to gold ETFs, the giant SLV silver-backed trust fund has expanded as prices have fallen in September, growing by 0.8% to make the first monthly inflow in three.
Silver prices today surged more than $1 per ounce above yesterday's test of 2-week lows at $22.40.
Gold priced in Euros meantime rallied only to fall back to yesterday's 5-week low of €1759, still above 2020's first-wave Covid Crisis peak but 7.0% below the peak hit on Russia's full-scale invasion of Ukraine in early spring 2022.
Like gold for Euro investors, the
UK gold price in Pounds per ounce
also bounced Friday to the middle of its last 4 months' trading range, rallying almost £10 but then dropping again to £1524, below its 2020 peak and 7.5% below this spring's all-time high.