Germany's Gold Coin and Bar Demand Collapses
Wednesday, 8/23/2023 12:20
Gold investing's No.3 hit by high prices, rising cash interest rates...
GOLD COIN and small-bar investment demand in Germany has collapsed so far in 2023, down by 75% from the first half of 2022, as the precious metal trades near all-time record prices and interest rates on cash-in-the-bank finally rise.
With just 1% of the world's total population and 4% of total economic output, Germany accounted for more than 1 in every 8 ounces of global
gold coin investing
and small bullion bar demand over the 10 years to 2023, outstripping everywhere except China and India with almost twice the net demand of households in the USA.
But added to jewelry buying and investment flows into German-listed exchange-traded products backed by bullion (commonly known as gold ETPs or
gold ETFs
), April to June saw net demand for gold total just 205 kilograms on the latest data, down from 52.1 tonnes in the second quarter of last year and 99.5% below Germany's quarterly average net demand over the 10 years prior to 2023.
Real interest rates, after allowing for consumer-price inflation, have meanwhile risen on average from a record low of minus 8.1% last October to minus 5.7% in June for immediate access household bank accounts.
For deposit accounts with an agreed term of up to 12 months, real rates have gone from minus 7.1% to minus 3.4% per annum – the least negative in 2 years –
according to data
from Germany's central bank the Bundesbank.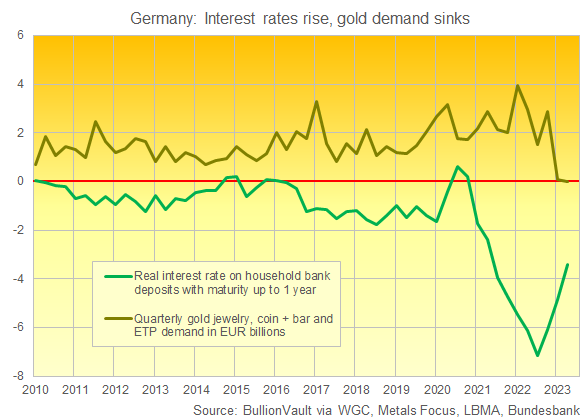 After setting a new quarterly-average record of €1759 per Troy ounce between January and March as the US regional banking crisis spurred a 25% plunge in the share price of German giant Deutsche Bank,
gold priced in the Euro set new monthly records
in both April and May, plus a fresh quarter-average record of €1815 per ounce (58,380 per kilo) across Q2.
BullionVault's analysis of
the latest global gold demand data
– published by the mining industry's World Gold Council – says that, over the 10 years to 2023, German households and investors spent €68.0 billion buying gold, net of their selling.
The metal they acquired is now worth €93bn at current prices.
With gold prices rising alongside the interest rate offered on cash savings,
Germany's Gold Investor Index turned sharply lower
at New Year, and new German account openings at BullionVault – the largest marketplace for private investors in physical bullion – have fallen sharply so far in 2023, with Q2 bringing the fewest first-time precious-metal buyers from Germany since Q4 2018, down 34.9% from the prior 10-year quarterly average.
Q3 is already shaping up to be worse still, running at barely half the average pace pre-2023.
"It seems only collectors are buying," said another. "Investors, at least in Germany, have completely removed silver from their watch list."
Amid the plunge in Germany's gold coin and small-bar buying, major retailer Degussa – now distancing itself from its
former association
with the right-wing Alternative für Deutschland (AfD), Germany's
2nd most popular
political party –
last week said
it wants to grow its gold storage business.
Gold coin and retail-bar demand has risen so far in 2023 across the rest of the world in contrast, with the drop in Germany's first-half demand shown on the World Gold Council's data more than offset by a jump in Turkey, followed by strong growth in China and Egypt, plus a marked slowdown in the continued liquidation of existing gold stockpiles by households in Japan.